Many people ask "can you flush biodegradable wipes?" The simple answer is – no. You shouldn't flush any wipes! It's good to , but even >non-plastic wipes should either be binned or composted.
Biodegradable wipes made with organic cotton, viscose or bamboo simply don't have enough time to break down. Wipes capable of breaking down naturally will contribute to fatbergs and blockages. Composting is a natural process which needs the right conditions and environment for things to biodegrade back into their natural building blocks. Sewers do not provide an effective composting environment.
Natracare's Safe to Flush moist tissues are the exception to this rule because they're not a wipe. The Safe to Flush are a tissue made of robust paper moistened with a blend of organic and natural ingredients. They're the first product in the UK to be certified with Water UK's Fine to Flush certification.
Water UK recently announced that wet wipes account for a whopping 93% of the material blocking UK sewers! The vast majority of wipes on the supermarket shelves are made from polypropylene, a type of plastic. Wipes can also be made of biodegradable materials which aren't compostable, for example viscose. These types of wipes can eventually break down, but not easily. Read the packaging carefully to see what material a wipe is made from!
Here's how to dispose of wipes properly…
How do I dispose of wipes responsibly?
The solution is simple and cheap. Place two bins in the bathroom. One for non-recyclable rubbish, and one for recycling.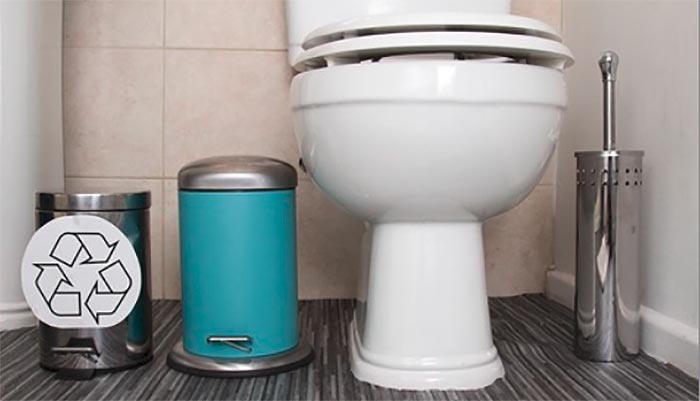 Image Credit: City to Sea
Items for your recycling bin include…
Finished toilet rolls
Cardboard packaging from toothpaste, Natracare boxes
Recyclable packaging from shampoo, conditioner, shower gel (or try switching to soap and shampoo bars to completely avoid plastic !)
Biodegradable Natracare wipes which you can compost in your garden
For things like dirty baby wipes, and used tampons, sanitary pads and liners that you don't want to compost, we would recommend sealing them in a compostable bag (or reuse a Natracare Maxi pad bag) and then throw them out with your rubbish.
Everything that can't be recycled can go into the second bin. Make the recycling bin the bigger one as more of the waste should be recyclable that not.
---
How are Natracare wet wipes better?
As an ethical and responsible manufacturer of wet wipes, it's our mission to be offer solutions which help reduce environmental impact. We commit to:
No plastics! Not many people realise that wipes are usually made from polyester or a blend of plastic and viscose materials. These single-use plastic wipes are just adding to the increasing plastic burden in our oceans or on land. Natracare wipes are 100% biodegradable.
A plant-based formula, with organic essential oils, all certified by the Soil Association. We already know that toxic chemicals can be aggressive for the skin, but what about the environmental footprint? The production and disposal of synthetic preservatives allows unwanted chemicals to enter our water system and therefore into the food chain. To find out more about this process of bioaccumulation, check out this video.
Clear flush or do not flush labels on the front and back of Natracare packs.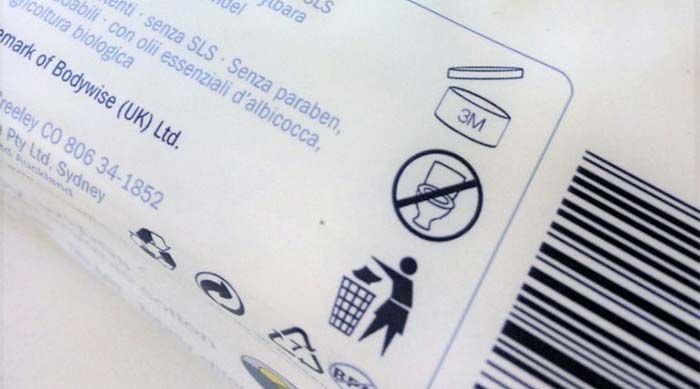 Remember, only 3ps should be flushed down the toilet: Pee, Poo and (toilet) Paper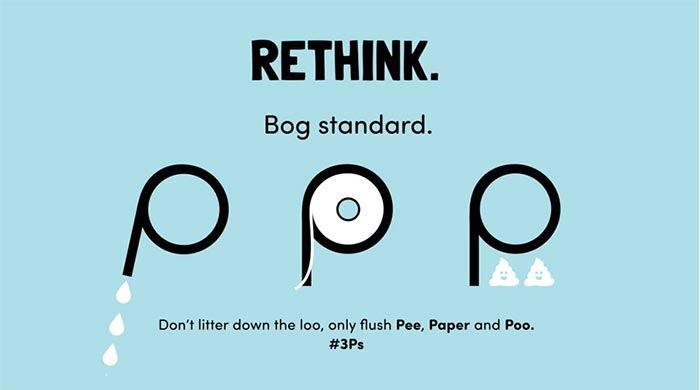 Image Credit: Natalie Fee's Ted Talk
---
A final note on "flushable" wipes
You'll see on the supermarket shelves many types of wipe claim to be "flushable". It's important to note that water authorities don't agree with these claims. The wipes might disappear from your sight but sadly they don't break down, causing blockages that are costing UK taxpayers £100 million a year!
At the time of writing, Natracare's Safe to Flush Moist Tissues are the only product of its type in Europe to have passed stringent tests designed by the Water Research Council, which replicate the conditions in the sewers. Only flush tissues with the fine to flush logo.
Flush Safely
The world's first TRULY flushable wipe is here, and – just like toilet roll – is made of 100% tissue paper.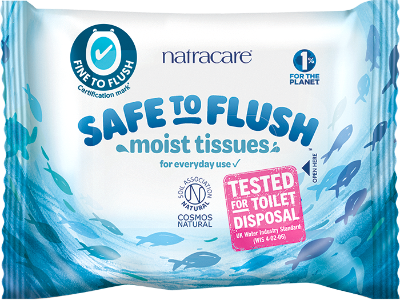 For more excellent resources check out the following:
Read top tips on flushable and biodegradable with South West Water's Love your Loo campaign
Join in with Marine Conservation Society's Wet Wipes Turn Nasty campaign.
Learn "Why Plastic Pollution is Personal" in Natalie Fee's TEDx Talk.