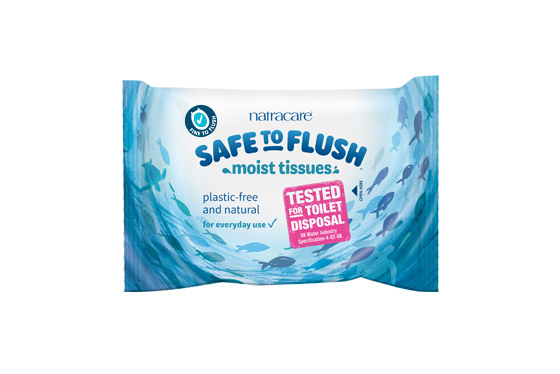 Truly clean, safe to flush moist toilet tissues
Cleansing with a gently refreshing formula of organic witch hazel and aloe vera
100% paper tissue
Cleanses sensitive skin
Organic & natural formula
No Sodium Lauryl Sulfate (SLS), Parabens or MIT
Plastic free & biodegradable
Water UK Approved Flushable
Marine friendly
Product details
Ingredients: 100% FSC Certified paper tissue
Aqua, Aloe barbadensis leaf water* (Aloe Vera), Sodium citrate, Glycerin, Gluconolactone, Coco-caprylate, Chamomilla recutita flower water* (Chamomile), Hamamelis virginiana leaf extract* (Witch Hazel), Calendula officinalis, flower extract* (Marigold), Citrus sinensis peel oil expressed* (Sweet Orange), Helianthus annuus (Sunflower) seed oil, Lauryl glucoside, Sodium benzoate, Levulinic acid, Polyglyceryl-2-dipolyhydroxystearate, Polyglyceryl-3 diisostearate, Tocopherol, Sodium levulinate, Citric acid, Sodium phytate, Calcium gluconate, Potassium sorbate, Limonene**
* organic ingredient ** naturally occurring in the essential oil
Packaging: recyclable BPA-free plastic
30 moist tissues per pack
Barcode: 0782126203137
What it's all about
Natracare natural flushable tissues are designed to cleanse and refresh intimate skin to help you feel extra clean. Infused with soothing aloe vera and bacterial witch hazel.
Our toilet tissues are certified flushable! Choose truly flushable moist toilet tissues guaranteed to break down safely after flushing, with an organic and natural formula which is kind to the environment.
With over 366,000 sewer blockages in the UK every year, it's costing water companies, and therefore consumers, millions to fix them.
But did you know over 80% of blockages are completely avoidable!? We should only be flushing our 3 Ps – paper, pee and poo. Yet many wet wipes contain secret plastics and tissues are falsely marketed as flushable when they are not!
We've worked closely with Water UK to meet water industry standards for the first truly flushable wipes.
Natracare's Safe to Flush Moist Tissue is currently only available in the UK.
FAQs
Q: "What makes these flushable compared to other moist tissues?"
Natracare moist tissues are made with 100% paper and have been thoroughly tested and approved flushable by Water UK. Only flush your three Ps – pee, paper and poo! We have designed the natracare moist tissues to be sewer safe and 100% biodegradable, unlike many other so-called flushables. Look for the fine to flush logo to make sure your flushable is truly safe to flush according to the UK Water Industry Standard (WIS 4-02-06).
Q: "What are toilet tissues used for?"
Toilet tissues cleanse and refresh intimate skin to help with daily hygiene. Moist tissues help clean bottoms, babies, and freshen up intimate bits on your period. From cleaning a menstrual cup on the go, or as a travel wipe, moist tissues give a little extra help getting clean. Note that tissues should only be used externally.
Q: "Are the tissues okay for sensitive skin?"
Yes, moist toilet tissues are designed especially for sensitive skin with a cleansing formula and clinically tested. We only use organic and natural ingredients, which are GMO free, making them kinder to your skin.
Have more questions or need further information? Get in touch
Make the plastic-free switch today!
Product Certifications
Water UK
Certified Fine to Flush product. Natracare Moist Tissues are the very first to be tested and approved for disposal in a toilet in accordance to UK Water Industry Standards (WIS 4-02-06).
Vegan Approved
This product is suitable for vegans and vegetarians. Natracare does not use animal testing or derived ingredients in any product or process.