Safe to Flush Moist Toilet Tissues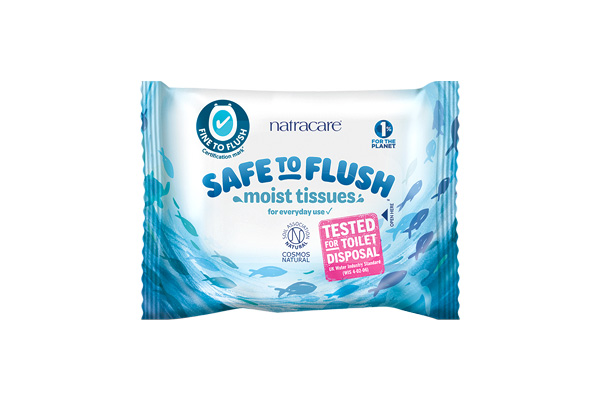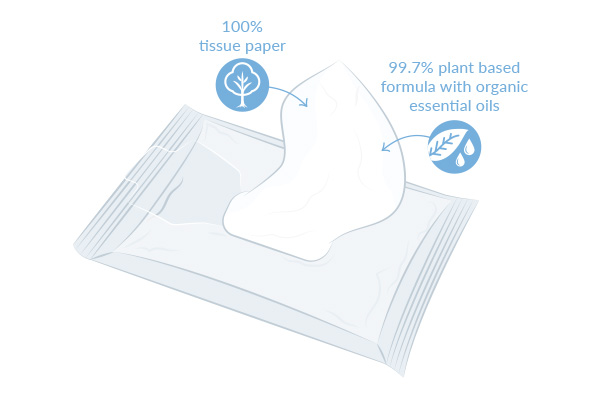 Plastic free moist tissues, certified flushable
100% paper
Suitable for sensitive skin
Organic & natural formula
No Sodium Lauryl Sulfate (SLS), Parabens or Methylisothiazolinone (MIT)
Fine to Flush certified by Water UK
IWSFG Certified Flushable
Biodegradable in both marine and fresh water
Please choose your location
or
Product details
Ingredients: 100% totally chlorine free paper
Aqua, Sodium chloride, Glycerin*, Levulinic acid, Potassium sorbate, Olus oil, Lauryl glucoside, Polyglyceryl-2-dipolyhydroxystearate, Sodium levulinate, Aloe barbadensis leaf water* (Aloe Vera), Sodium phytate, Dicaprylyl carbonate, Glyceryl oleate, Calendula officinalis flower extract* (Marigold), Citrus aurantium dulcis peel oil* (Sweet Orange), Citric acid, Sodium benzoate, Hamamelis virginiana leaf extract* (Witch Hazel), Limonene**
* organic ingredient ** naturally occurring in the essential oil
Packaging: recyclable BPA-free plastic
30 moist tissues per pack
Barcode: 0782126203137
What it's all about
Natracare natural, flushable moist tissues cleanse and refresh delicate skin. Made of 100% paper and an organic and natural formula. Each tissue contains soothing aloe vera and cleansing witch hazel to help you feel extra clean.
What's more, they are certified flushable! Natracare Safe to Flush moist tissues are third party, independently tested to the specifications of both International Water Services Flushability Group (IWSFG) and Water UK. This means they are guaranteed to break down safely after flushing, and will also safely biodegrade in both marine and fresh water.
Many wipes contain viscose or even conventional plastics such as polypropylene or polyester – these have often been falsely marketed as flushable! There are over 366,000 sewer blockages in the UK every year, and over 80% of them are avoidable.
We don't have to continue to harm our planet using single-use plastic wipes. We should only flush our 3 Ps – paper, pee and poo. Natracare Safe to Flush moist tissues are made from only ecologically certified paper – zero plastic!
We've worked closely with Water UK and IWSFG to meet water industry standards for a truly flushable product. Look for the verified logos to know what you can safely flush.
FAQs
Q: "Can you flush moist tissues?"
Safe to Flush moist tissues are made with just paper, unlike many other wipes, maybe claiming to be biodegradable or even flushable, which typically contain plastic or viscose fibres. Biodegradable does not mean a product is flushable.
Natracare moist tissues have been third party, independently tested and approved flushable by Water UK and the IWSFG. Both the tissue and formula are designed to be sewer safe.
Look for the Fine to Flush and IWSFG logo to make sure the product you're using is independently certified safe to flush.
Q: "Why are the Fine to Flush and IWSFG flushable standards different?"
Robust flushable standards are needed more than ever as wet wipes can create widespread damage.
The Fine to Flush standard follows UK Water Industry Specification (WIS-4-02-06). It is the only flushable standard approved by Water UK and all UK water authorities!
The IWSFG specification documents, developed by a coalition of national water services associations in Australia, Canada, Japan, New Zealand, Spain describes the criteria that a product should meet to be compatible with being flushed down a toilet, and are intended as a Code of Practice for manufacturers to adhere to label a product as flushable.
Natracare Safe to Flush Moist Tissues undergo independent testing to ensure they meet or exceed the criteria for flushability:
environmental protection – the tissues do not contain plastics or release harmful by-products in nature
toilet and drain line clearance – they can travel successfully through wastewater pipes
disintegration – they will break down or weaken within set conditions and timeframes
settling – they sink in water
biodisintegration – the tissues can biodegrade and separate into smaller pieces
There's no greater endorsement than by those who keep our drains and sewers clear of blockages. You can trust Fine to Flush and International Water Services Flushability Group (IWSFG)!
Find out more about Fine to Flush
Find out more about the International Water Services Flushability Group
Q: "Are safe to flush tissues okay for sensitive skin?"
Our gentle cleansing formula is designed specifically for use with sensitive skin. The moist tissues have been dermatologically and ophthalmologically tested on human volunteers.
Q: "How long will they take to break down?"
The moist tissues begin to break down in the sewer pipes just 20 minutes after flushing. And they will break down completely within 8 flushes (the average number of flushes a day in a household). The tissues are 100% biodegradable, compostable and safe to marine life.
Q: "Are they safe to flush in septic tanks?"
In theory, our Safe to Flush tissues are suitable for use in septic tanks. They are biodegradable in both marine and fresh water. Our certification covers flushing in mains sewers, not off-grid waste systems and there can be differences. Septic tank pipes can be narrower than mains water waste.
We recommend checking with your manufacturer before flushing the moist tissues as some pipes can be narrower. You can provide them with our testing method for Fine to Flush so they can compare it with your system.
Q: "Is the paper sustainable?"
Yes! Our paper for our flushable moist tissues is sourced from certified, sustainably managed pine forests. The paper is FSC ecologically certified and bleached using the eco-friendlier Totally Chlorine Free (TCF) method.
Q: "How to dispose of Natracare Safe to Flush moist tissue packaging?"
The packaging is made from recyclable plastic
. Check with your local authority to see which types of plastic they can recycle.
Have more questions or need further information? Get in touch.
No matter where you are in the world, you can always feel fresh with our moist tissues. Make the switch today!