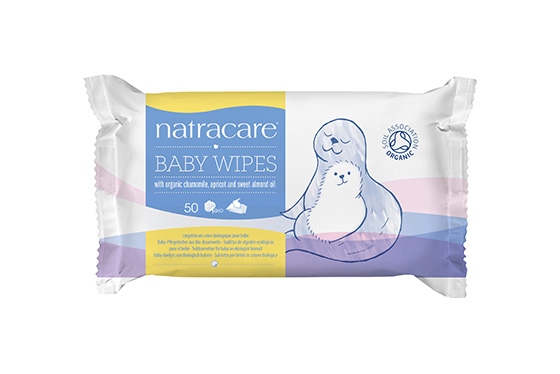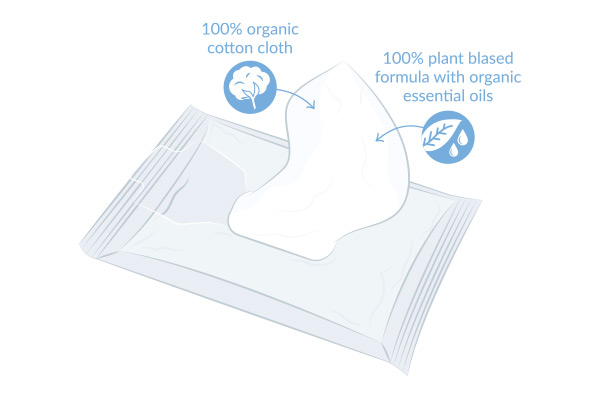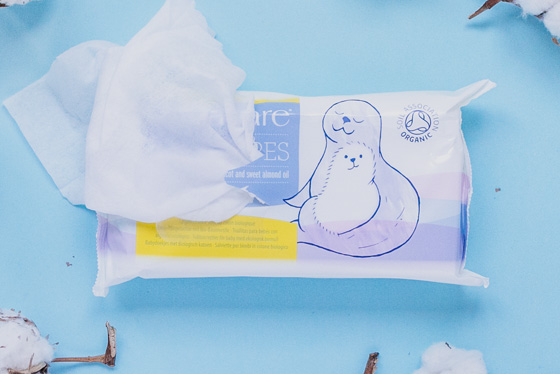 Plastic free wipes for daily use on delicate baby skin
Suitable for sensitive skin
Made without alcohol or synthetic fragrances
No Sodium Lauryl Sulfate (SLS), Parabens or Methylisothiazolinone (MIT)
Biodegradable & compostable
Organic formula & cotton cloth
GMO free ingredients
Please choose your location
or
Product details
Ingredients: 100% certified organic cotton cloth
Aqua, Brassica Campestris Seed Oil (Rapeseed), Glycerin, Lauryl Glucoside, Polyglyceryl-2-dipolyhydroxystearate, Prunus Armeniaca Kernel Oil (Apricot)*, Levulinic Acid, Parfum (Citrus Dulcis Extract (Orange), Amyris Balsamifera Bark Oil, Coriandrum Sativum Fruit Oil (Coriander), Juniperus Virginiana (Red Cedar), Citrus Bergamia Peel Oil Expressed (Bergamot Orange), Citrus Amara (Bitter Orange), Piper Nigrum Oil (Black Pepper)), Sodium Levulinate, Sodium Chloride, Chamomilla Recutita Flower Extract (Chamomile)*, Maltodextrin, Prunus Amygdalus Dulcis Oil (Sweet Almond)*, Tocopherol (Vitamin E), Helianthus Annuus Seed Oil (Sunflower), Potassium Sorbate, Glyceryl Oleate, Dicapryl Carbonate, Sodium Phytate, Limonene**, Linalool**, Geraniol**
*Organic ingredient **Naturally occurring in the essential oils
Packaging: recyclable BPA-free plastic
50 biodegradable baby wipes per pack
Barcode: 0782126200112
What it's all about
Soft and gentle Organic Baby Wipes for daily use on your little one's delicate skin. We use an organic cotton cloth infused with organic essential oils of chamomile, apricot and sweet almond oil. All of which cleanse and refresh, leaving skin clean and soft.
The gentle formula is free from detergents such as sodium lauryl sulphate (SLS) or any of its close relatives. No parabens or synthetic preservatives, including methylisothiazolinone (MIT) and other types of formaldehyde releasing preservatives.
Certified Organic by The Soil Association.
Designed to respect nature and to enhance the health of soils, water and air, organic farming is leading the way on sustainability.
No matter where you are in the world, you can always feel fresh with our wipes. Make the switch today!
FAQs
Q: "What can you use baby wipes for?"
Natracare baby wipes are ideal for cleaning babies' bottoms between nappy changes and faces after making a mess! They are not limited by use, though – they are suitable for cleaning all types of skin at all ages!
Q: "Can I flush biodegradable baby wipes?"
No, Natracare baby wipes are not flushable. Only flush your three Ps — pee, paper, and poo. Our wipes are 100% compostable, however there is not time or the right conditions for wipes to biodegrade before going through the water pipes.
Want something flushable? Check out our Safe to Flush moist tissues made with paper.
Q: "What ingredients should you avoid in baby wipes?"
There are many ingredients you might want to avoid using on your babies' skin. These include things like sodium lauryl sulphate (SLS), parabens, SHG and other types of formaldehyde releasing preservatives. Cosmetic products can commonly include ingredients that can cause irritation and are classed as chemicals of concern.
We want to protect you and your family, so our organic formula means we only use sensitive, organically certified, safe ingredients. Find out more about ingredients to avoid in baby wipes here.
Q: "What are parabens and why are they bad?"
Parabens are used as a preservative in many beauty and personal care products. In fact, it's estimated that 90% of non-organic cosmetics contain some variety of paraben! Parabens are a synthetic ingredient and are known hormone disruptors linked to breast cancer. Organic guarantees no parabens.
Q: "How to dispose of Natracare organic cotton baby wipes and packaging?"
The best way to dispose of Natracare wipes is in your compost bin if you have one, or with your regular waste.
The packaging is made from recyclable plastic
. Check with your local authority to see which types of plastic they can recycle.
Have more questions or need further information? Get in touch.