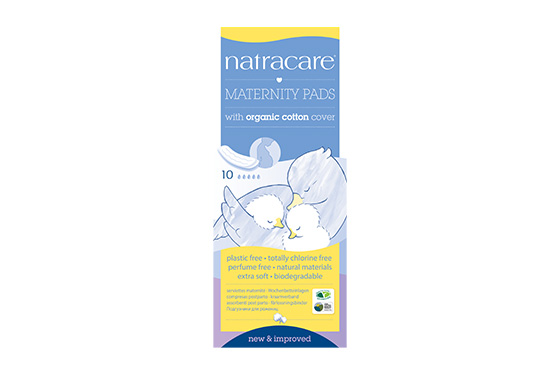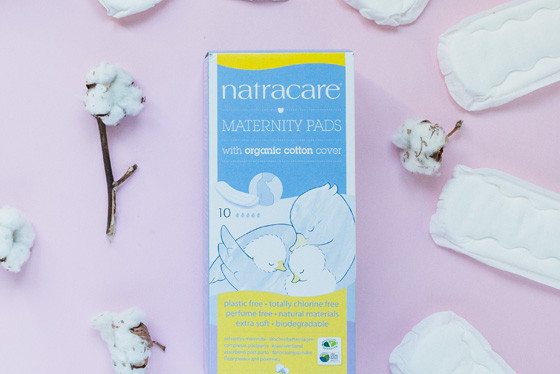 Pads to absorb natural blood loss after giving birth
Soft organic cotton cover
Plastic free
GMO free ingredients
No perfumes or dyes
Totally Chlorine Free
Biodegradable & compostable
Made for sensitive skin
Product details
Ingredients: Certified organic cotton, ecologically certified cellulose pulp, plant starch, non-toxic glue.
Packaging: Recycled cardboard printed with vegetable-based ink
10 post-partum pads per pack
Barcode: 0782126003409
What it's all about
Natracare Maternity pads with soft, certified organic cotton cover. The pads are extra long, wide and comfortably padded to give confident and secure protection for the natural blood loss experienced after giving birth.
Natural pads will help look after incredibly sensitive postpartum skin naturally without causing extra irritation associated with synthetic materials.
Our award-winning products are sold in over 60 countries worldwide. Make the switch today!
FAQs
Q: "How many maternity pads will I need?"
New mothers will experience post-partum bleeding anywhere from a few days to few weeks. As a minimum, we recommend having two packs of postpartum pads in the house and one pack in your maternity bag. You may need to change your pad every hour or two to start with, then every 3 or 4 hours in the coming days and weeks.
Product Certifications
USDA Biobased™
This product is USA Biobased Certified. Helping to reduce global petroleum consumption and carbon emmisions by increasing the use of renewable and sustainable resources.
MADE SAFE® Certified
Nontoxic seal guaranteeing products you use on your body, with your family, and in your home are made with safe ingredients not known or suspected to harm human health.
Vegan Approved
This product is suitable for vegans and vegetarians. Natracare does not use animal testing or derived ingredients in any product or process.