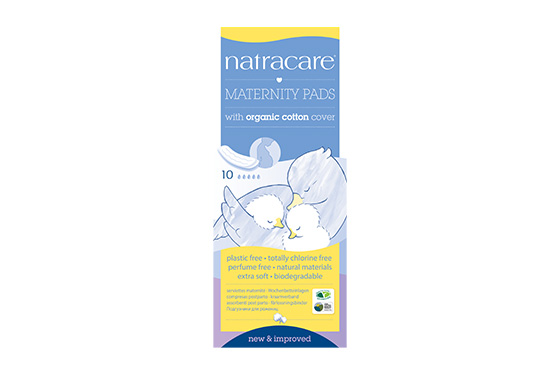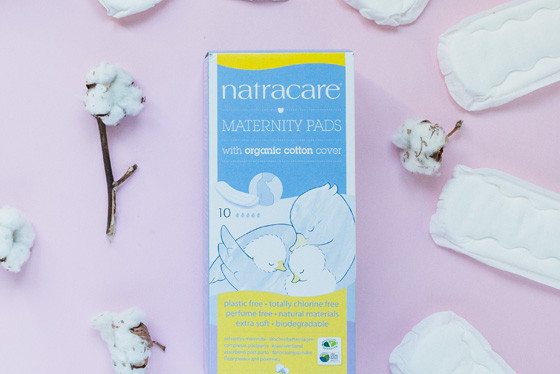 Pads to absorb natural blood loss after giving birth
Soft organic cotton cover
Plastic free
GMO free ingredients
No perfumes or dyes
Totally Chlorine Free
Biodegradable & compostable
Made for sensitive skin
Product details
Ingredients: Certified organic cotton, ecologically certified cellulose pulp, plant starch, non-toxic glue.
Packaging: Recycled cardboard printed with vegetable-based ink
10 postpartum pads per pack
Barcode: 0782126003409
What it's all about
Natracare Maternity pads with soft, certified organic cotton cover. The pads are extra long, wide and comfortably padded to give confident and secure protection for the natural blood loss experienced after giving birth.
Natural pads will help look after incredibly sensitive postpartum skin naturally without causing extra irritation associated with synthetic materials.
No matter where you are in the world, you can take care of you and your baby's skin with our maternity range. Make the switch today!
FAQs
Q: "How many maternity pads will I need?"
New mothers will experience postpartum bleeding anywhere from a few days to few weeks. As a minimum, we recommend having two packs of postpartum pads in the house and one pack in your maternity bag. You may need to change your pad every hour or two to start with, then every 3 or 4 hours in the coming days and weeks.
Q: "Why use wood pulp inside of the pads instead of cotton?"
We use ecologically certified wood pulp as the absorbent core of our pads. This is because the fibre structure is well suited for pads. Pulp from pine wood is 70% amorphous and 30% crystalline, meaning it can absorb much more than a pad which is just cotton.
We use organic cotton for the top sheet of our pads, and this sits next to the skin, acting as a soft natural cover to wick away blood. Our fluff pulp is sustainably sourced from fast growing, Scandinavian pine trees. We mechanically process the wood to make it soft, fluffy and absorbent – we never use chemically processed pulp, such as rayon.
Need more information? Get in contact with us.