Natracare is thrilled to announce that the entire product range is now officially vegan approved, with all products in the range approved for use by those following a vegan lifestyle.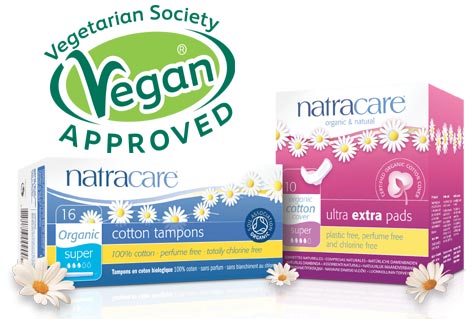 In 2011, Natracare became the first disposable feminine hygiene range to be approved by the Vegetarian Society, and is continuing the trend by proving its animal friendly ethos one step further. The range has always been perfect for vegans, and now we have the logo to prove it.
Checking labels, asking questions and contacting companies is an everyday part of the vegan lifestyle. It can be an uphill struggle getting information about animal testing from brands and yet vegetarian and vegan societies have been around since the early 1900s.
The UK based Vegetarian Society takes away the hard work for consumers by doing research behind the labels. Only companies that can prove no animal testing is used in any part of ingredients or production are awarded the prestigious logo to reassure customers that what they are buying conforms to vegan standards.
Notoriously, the cosmetics industry often uses unnecessary ingredients requiring animal testing or animal derived ingredients. It is an extra stress for those following a vegan lifestyle to know how their personal care products fit in beyond animal free dietary requirements.
The Natracare range of tampons, sanitary pads, panty liners and wipes already boasts strong ethical values, offering women an organic and natural alternative, and this new logo offers extra reassurance for women buying their monthly products.
---
Notes to editors
Natracare is the first company in the world to provide plastic-free, certified organic cotton tampons and totally chlorine-free sanitary pads and panty liners. Natracare products are biodegradable and can even be composted. Susie Hewson created the brand in 1989 in response to the growing danger to human health and the environment from dioxin pollution in the pulping industries with the chlorine bleaching of paper products.
The Vegetarian Society is a British organisation founded in 1908. They provide resources and support vegetarian and vegan lifestyles. They certify products and/or companies as suitable for vegans and vegetarians. Read more at vegsoc.org.