Bladder Weakness
An uncomfortable subject for some – Stress Urinary Incontinence is much more common than many people think, with 1 in 3 people between ages of 20 and 85 experiencing bladder leakage. This can occur with something as little as a sneeze, cough, laugh, or when lifting or exercising. Extra stress placed on the valve of the bladder causes an accidental leak.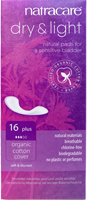 Stress incontinence is a potential cause for embarrassment but it's important to remember that bladder weakness affects millions of people of all ages and stages, although most often after childbirth or during menopause. Having comfortable yet reliable protection is a must to ensure everyday confidence.
Soft, Discreet Protection
Natracare Dry & Light pads for light incontinence now come in Slim and Plus sizes, so people can choose the right level of protection for their personal needs. Made from sustainable, totally chlorine free materials, the pads offer security whilst avoiding materials and chemicals that could leave skin sore or irritated; this is essential for pads used on a daily basis.
How It Works
To protect against small leaks the pads have a double layer of absorbent cellulose, and no nasty super-absorbents. Compressed for a discreet fit, the core quickly and effectively absorbs liquid, whilst the leak-proof backing layer made from plant starch ensures dry, comfortable protection at all times. Encased in a 100% certified organic cotton cover, the Dry & Light pads are gentle on the skin, allowing it to breathe. The product comes in two levels of absorbencies: Slim (109ml) for light protection, and Plus (176ml) for people needing a little extra protection.
Environmentally Friendly
Unlike the average incontinence pads which are made from 90% plastic materials, Natracare pads are free from petroleum-derived super absorbents (SAPs) and plastics, making them biodegradable and compostable so they only leave a soft footprint on the earth. For convenience and ease of disposal the pads are individually wrapped in biodegradable purse packs. Natracare Dry & Light are the only natural alternative on the market, offering people a natural choice for stress incontinence.
With Natracare Dry & Light pads incontinence can be managed in a way that takes care of health and the environment.
View Dry & Light Incontinence pads
---
Notes to editors
Natracare is the first company in the world to provide plastic-free, certified organic cotton tampons and natural and organic sanitary pads and liners. Natracare products are biodegradable and can even be composted. Susie Hewson created the brand in response to the growing danger to human health and the environment from dioxin pollution in the pulping industries with the chlorine bleaching of paper products.