Composting is returning biodegradable material back to the earth. Usually we compost food, tea bags and garden waste. But what about other products you use?
Have you ever considered if pads, panty liners and tampons can be composted too?
Picture this, a person uses up to 17,000 pads in their lifetime. Can you imagine all that waste stacked up in one big pile?
Conventional pads and panty liners are made from up to 90% crude oil plastics and therefore are not compostable or biodegradable. In fact, composting them would be the equivalent of burying a handful of plastic bags in the ground; pointless and damaging to the environment! However, that big waste footprint is not something you have to accept!
If you use menstrual products that are plastic-free (like Natracare) and made from natural biodegradable materials such as organic cotton and plant cellulose, then yes! – you can compost pads and tampons!
Compost your period products!
With our line of biodegradable and compostable pads and tampons.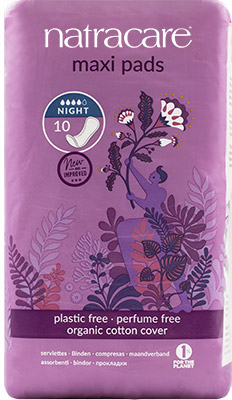 How should you compost natural pads and tampons?
Firstly, ensure you are using natural pads, panty liners and tampons for your time of the month. These should be made from only natural, plant based materials (how do you know? read the ingredients list on the pack. If there isn't one it probably isn't compostable or get in touch with the manufacturer to check!)
Create the correct conditions for compost (i.e. damp and warm) by making a well-sealed bin and adding to it regularly. Using a properly enclosed bin is also really important to avoid attracting vermin.
Ensure your compost has a good balance of green and brown compost

Green compost includes veggie peelings and grass cuttings etc. – softer, damper stuff that breaks down relatively quickly.
Brown compost involves fibrous things like cardboard and pruning clippings and natural pads and tampons which take longer to biodegrade than 'green' compost.

To speed up the composting process, it's a good idea to break up the pads and liners by hand (or with scissors) before putting them in the compost bin. Ideally, separate the backing layer which holds a small amount of adhesive – this can be composted too.
Pat yourself on the back for choosing monthly products that won't contribute to landfill!
We recommend waiting 18-24 months for the complete breakdown of menstrual products in a home compost bin. Keep using only compostable waste in your bin, then ensure it stays warm, moist and well aired. This lets it break down beneficially into the building blocks of soil to better fuel future plant growth. We have more information on the details of composting pads and tampons below:
How Long Do Pads Take to Compost?
How Long Do Tampons Take to Compost?
Check out our compostable period products too!