Having access to fresh and local food produce to feed you and your family is essential for a healthy and sustainable lifestyle. Unfortunately, inequalities have the effect of limiting this access for some, directly impacting their quality of life. As part of our strategy to give back to people and the planet, we're proud to be joining Just Food in their fight for food justice and sustainable agriculture.
Who is Just Food?
Just Food is a grassroots nonprofit organisation based in New York City, that works to provide and improve access to organic and fresh food in their communities. They're pioneers in the fight for food justice and sustainable agriculture and have been for the past 25 years. Just Food operates as a hub that connects people of all ages and backgrounds, especially those that face discrimination.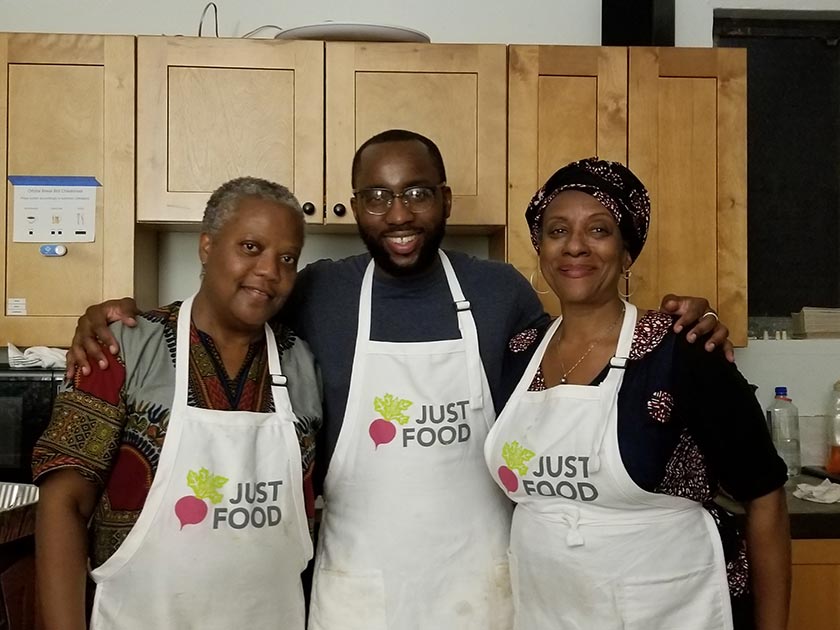 What does Just Food do?
The key projects that Just Food works on can be grouped into three areas:
Urban Farmers Projects
Urban Agricultural Policy
Youth Empowerment and Education Programs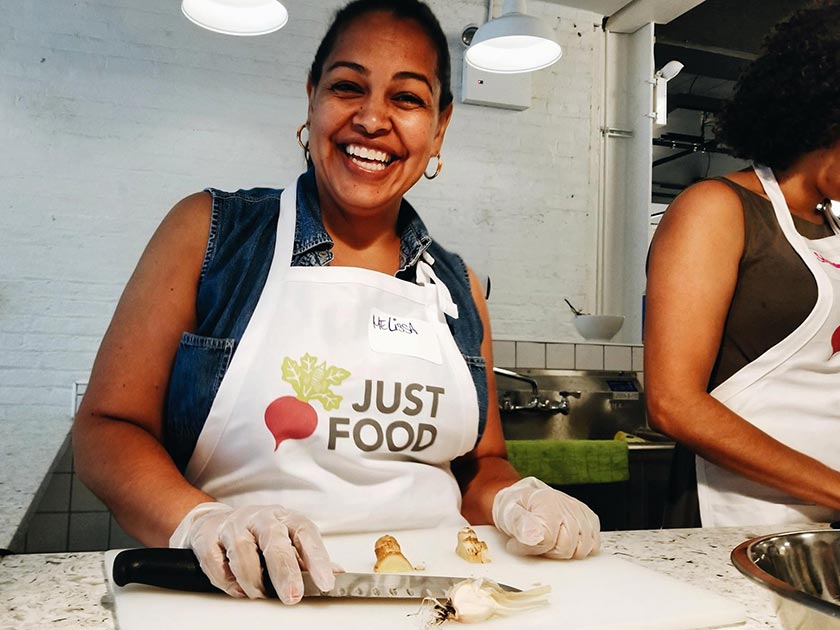 Urban farmers projects
One of the most successful areas of Just Food's work is to support farmers in their abilities to grow and supply sustainable and organic produce within their communities. They achieve this through Community Supported Agriculture (CSA) which are community-run groups connected to local farmers. CSAs work by having community members sign up to the program and pay an annual subscription fee. In turn they're connected to local farmers who have agreed to supply them with a set amount of veg that's dependent on the shares they contribute to the program. They also offer added extras like yoghurt, meat, and eggs.
Just Food currently works with and supports 120 CSAs, empowering communities to choose local farming affordably and helping urban farmers to build a regular and committed customer base.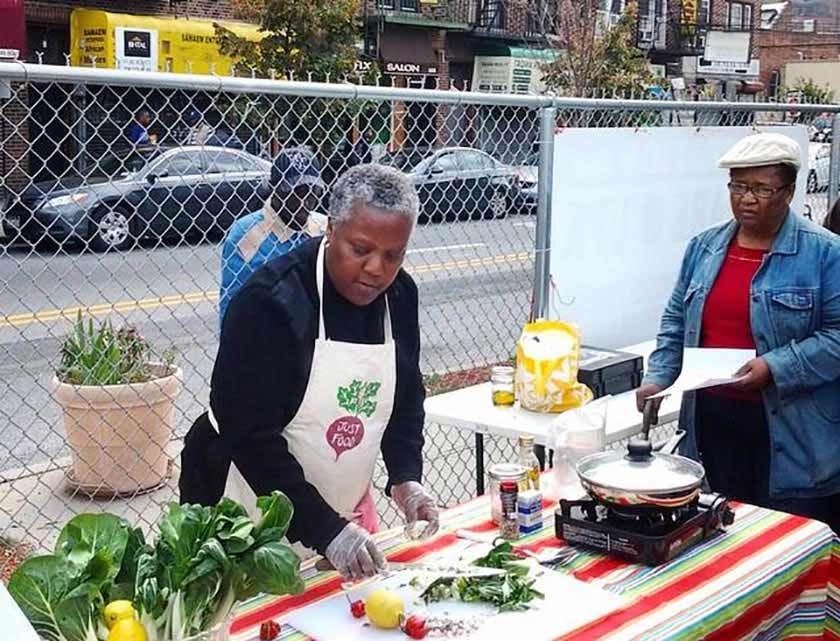 Just Food has also established and runs 26 farmers' markets around New York to support urban farming in the city. These markets connect local farmers with their communities on a regular basis, helping both sales and access to fresh foods thrive for farmers and city residents alike.
These efforts also provide approximately more than 144,000 New Yorkers of diverse backgrounds with access to locally grown produce. In total, Just Food's projects have both increased regional farmer sales, strengthened urban/rural linkages, and provided some of New York's most vulnerable communities with fresh food.
We want to ensure, and believe it is imperative that racial, economic, and environmental equity does not get lost in the midst of a crisis. It is needed more than ever. ​A continued challenge that impedes our work is the persistent segregation of resources and power of Indigenous, Black, and Brown and other frontline people within our society to become authentic change agents and decision makers rather than perpetual recipients of charity in this field. Even with the evidence of intersecting climate, economic, and health crises, there remains barriers to developing and implementing equitable food/farm policy that supports regenerative agriculture practices, addresses land theft, stolen generational wealth or authentically engages the most impacted in our society. More than ever, we need local and global food policy that is rooted in the resilient, indigenous agricultural practices.
Urban agricultural policy
In New York, there are more than 700 urban farms, many of these are located on reclaimed land. This means that the land these farms utilize could be taken away by the state and used to build housing at any time. There is currently no urban agricultural policy in place that protects urban farmers in New York from this possibility, causing a constant threat of losing their agricultural land and ability to work. The urban farms provide more than simply jobs to farmers in the city. They also provide the opportunity for local residents to connect with their communities and their food, as well as providing food and green spaces throughout New York. For the past three years, Just Food have been shifting their focus to fight for equity, policy, and advocacy for urban farmers.
Youth empowerment and education programs
An essential part of creating sustainable and lasting change is involving and empowering young people to take action. They will be the ones to continue to develop and invest in the change they want to see for generations to come. Just Food understands that young people are the future, and so have developed numerous ways to educate and empower them when it comes to food justice and nutrition.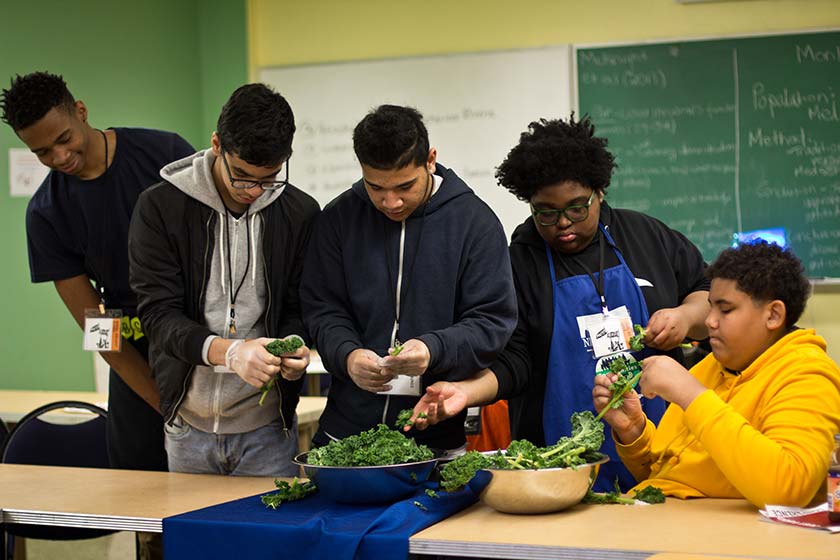 Just Food hosts a food and nutrition education chef program. The program is designed to teach young people about the growing, distribution, preparation, and consumption of food, fully equipping them to understand all aspects of nutrition and where their food comes from. The Just Food chef program also works with refugee and immigrant communities – respecting and celebrating diversity by educating students about culturally relevant foods.
Just Food have also launched their Youth Empowerment Pipeline project. A program designed to empower young people to take on leadership roles in looking after their communities. Just Food teaches, trains, develops policy with and connects young people to local farmers to really get them stuck into food in the community. The program has a general focus of empowering young people within their communities, and a particular focus on the topics of food equity and justice.
Just Food and COVID-19
For Just Food, the effects of the current pandemic have shone a light on parts of the New York food system that aren't working and need to be addressed. This has led to Just Food having a strong focus on supporting farmers to continue growing their food safely, paying their workers and increasing distribution to ensure communities in need have had access to fresh, local food. Just Food have also helped to provide emergency food supplies during the pandemic, but they recognise this is not a sustainable solution to food inequalities but a temporary relief.
Do you have a story about how your experience with food in your community has impacted your life? Let us know in the comments below.