We are so pleased to announce that Natracare's organic baby wipes have won the prestigious "Best Organic Product" award, as voted for by over 100 parents in the Meilleurs Produits Bio Awards.
So, why do so many parents say yes to Natracare organic baby wipes?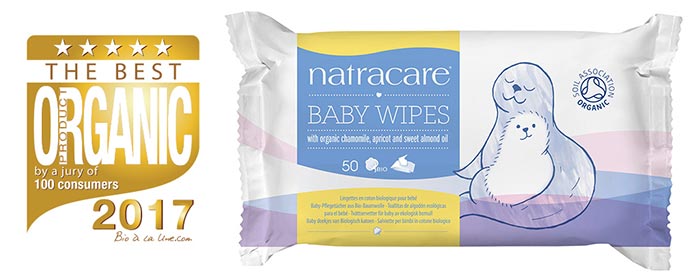 Given that there are so many wipes to choose from when it comes to keeping the family clean, we decided to rediscover what it is about Natracare organic cotton baby wipes that wins over so many parents.
We looked at the feedback from the 100 parents who tried, tested and loved our wipes and it is clear that there are some irresistible features!
1. Organic guarantee
Our baby wipes are certified to the Soil Association's Organic Health & Beauty standards, so you can be sure that they are free from toxic chemicals or those of concern. Organic covers a host of reassuring standards, such as:
No genetically modified (GM) ingredients
Products are never, ever tested on animals
All ingredients used are rigorously checked, sustainably sourced and traceable
Only use natural colours and fragrances from plants and flowers
Green chemistry principles are followed, minimising the environmental impact of ingredients and products. The creation of waste during the manufacturing process is also minimised
Restricted use of petrochemical ingredients
It's a relief to know organic standards look out for you and your family.
2. The wonderful smell
Most commonly with baby wipes there is a horribly synthetic smell which can leave parents feeling nauseous before the nappy even comes off!
Over 55% of parents loved the smell of Natracare baby wipes, and a clear majority enjoying the fresh infusion of organic essential oils of apricot, chamomile and sweet almond oil, proving that nature's scents are best.
Synthetic perfumes not only have a sickly fragrance, but can be very aggressive against baby's skin and contain all manner of sins, whereas you can trust certified organic ingredients to be gentle to sensitive skin through a rigorous selection process.
3. The winning formula
Natracare baby wipes are certified to the Soil Association Organic Health & Beauty standards, so you can be sure that they are free from toxic chemicals or those of concern.
Many brands use terms such as "sensitive" or "pure", yet there are still reports showing babies suffering from soreness and irritations due to even these so-called "natural" baby wipes. Unfortunately, it can be very hard to understand ingredients lists, which makes it difficult for shoppers to know what's good and what's bad. That is exactly the reason why the Soil Association has been promoting to "Look for the Logo" to support clarity and give parents a helping hand to care for their families.
Parents particularly loved the plant-based formula of Natracare's baby wipes as its moisture leaves a smooth, cleansed and non-sticky feeling on babies' skin.
4. The soft texture
Parents agree that it all comes down to what the cloth is made from. The Natracare baby wipes are made from 100% organic cotton cloth, making each wipe super strong and very soft for cleaning your baby's face, bottom or hands.
Did you know that most conventional wipes have a cloth made from polyester and other synthetic materials which are not biodegradable? Organic cotton is guaranteed to be free from pesticides and compostable, keeping you and the cotton workers free from nasty chemicals.
Our organic baby wipes are part of the Natracare maternity range, which also includes maternity and nursing pads too.