Period poverty is a term we hear a lot more often these days, but what is period poverty and why is it happening? The shocking period poverty facts are clear. In the UK we are finding that people struggling financially and especially young people find themselves unable to purchase period products. In Britain, you can expect to spend as much as £18,450 on your periods over the course of their lifetime.
Not only are there financial problems, but there's the social stigma too. Plan International UK found that 48% of menstruators aged 14-21 are embarrassed by their periods, with 71% feeling embarrassment when buying period products. It is this taboo and institutionalised period shame which helps fuel the problem of period poverty.
What's being done to help fight period poverty?
Last year the Scottish government announced a £5.2m scheme to provide free menstrual products in schools, colleges and universities.
It was recently announced that all secondary schools in England will give free menstrual products to students that need them. The government said they are responding to concerns from head teachers that some students were missing school because they could not afford menstrual products. This is a real concern, with a reported 49% of girls have said to have missed an entire day of school because of their period, 59% per cent of which have made up a lie or an alternate excuse.
What does period poverty mean in Brighton? How does it affect the city?
The issue around period poverty, and how it affects young people has been in the Brighton and Hove papers recently. Period poverty can have a real impact on mental health for young people, and education is the key to stop the stigma.
Brighton and Hove's council aren't just all talk. They've been involved in helping to improve the situation in schools. They've agreed to support a campaign by providing funding to the local Red Box project, which is a great move forward in tackling the problem and the stigma surrounding periods.
They have also said that PSHE (Personal, sexual and health education) services and lessons are crucial in tackling associated mental health issues and combating taboo.
Brighton & Hove and other areas around the South East have some of the highest numbers of rough sleepers outside of London. Sleeping rough means menstrual items are not a priority. Being forced to use make-shift cloth, toilet paper, or to make tampons last a whole period, which can be incredibly hazardous to their physical health and mental wellbeing.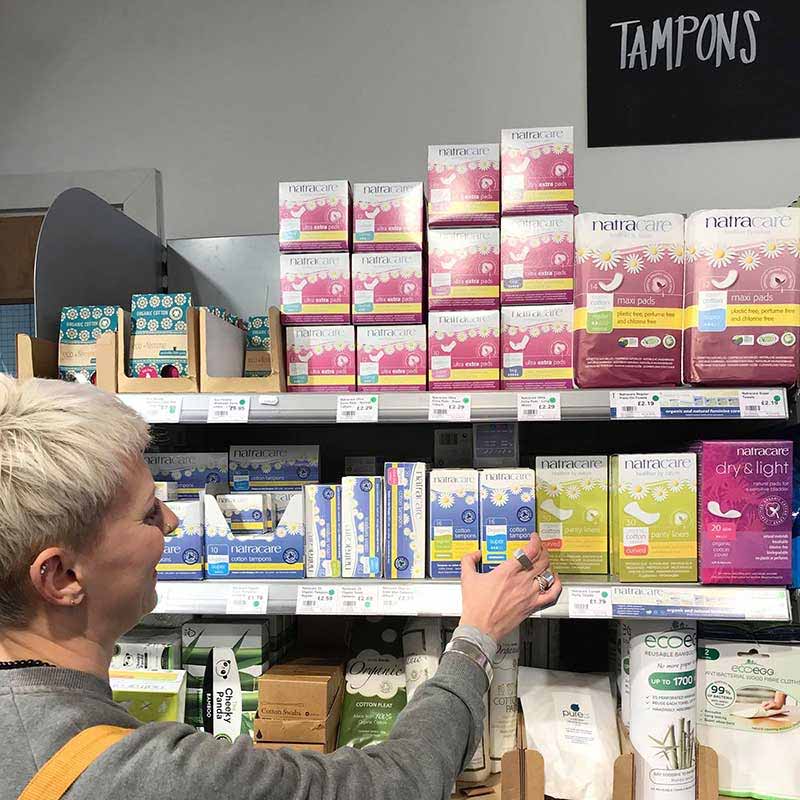 Why have you decided to tackle period poverty?
Plan International UK have reported that 1 in 10 girls in the UK have been unable to afford period products; with 49% of girls having missed an entire day of school because of their period.
We believe no one should suffer from period poverty, and anyone going through it – whether they're missing school or work – should be supported. We hope to raise period poverty awareness and help to eradicate it.
What is Infinity Foods doing to help end period poverty and tackle the taboo?
Infinity foods now absorb the 5% VAT on menstrual products to help make good period products more affordable – we don't think the tax should even exist! On top of that, we are donating 5% of our Natracare menstrual products sales to local women's charities, to help fight period poverty for those most affected.
Being a cooperative, we act with concern for the wider community and donate £1000s every year to local projects and charities.
What are good quality menstrual products to you? Why do they matter?
First and foremost, just because something is cheap doesn't mean it's putting health first. Many products on the market being bleached or perfumed impede on health. Plan International UK found that 1 in 5 has changed to a less sustainable product due to cost. We ensure all the products we sell are affordable and believe the value for money is important.
Infinity foods Shop has one of the best selections of natural and organic bodycare products, and that also goes for women's health.
Plastic free is an essential element to us too, especially as menstrual products are in high-demand and can create a lot of waste on a big scale. It has been estimated by the London Assembly that 90% of conventional menstrual pads are made up of plastic and 6% of a conventional tampon being made from plastic – approximately 200kgs of tampons, pads and applicators are thrown away in a menstruators lifetime, either going to landfill or down the toilet.
That's exactly why we are very happy to promote and stock Natracare products as they are eco-friendly, organic, made from natural materials, chlorine-free, biodegradable and fragrance-free. We also stock reusable menstrual cups and reusable pads.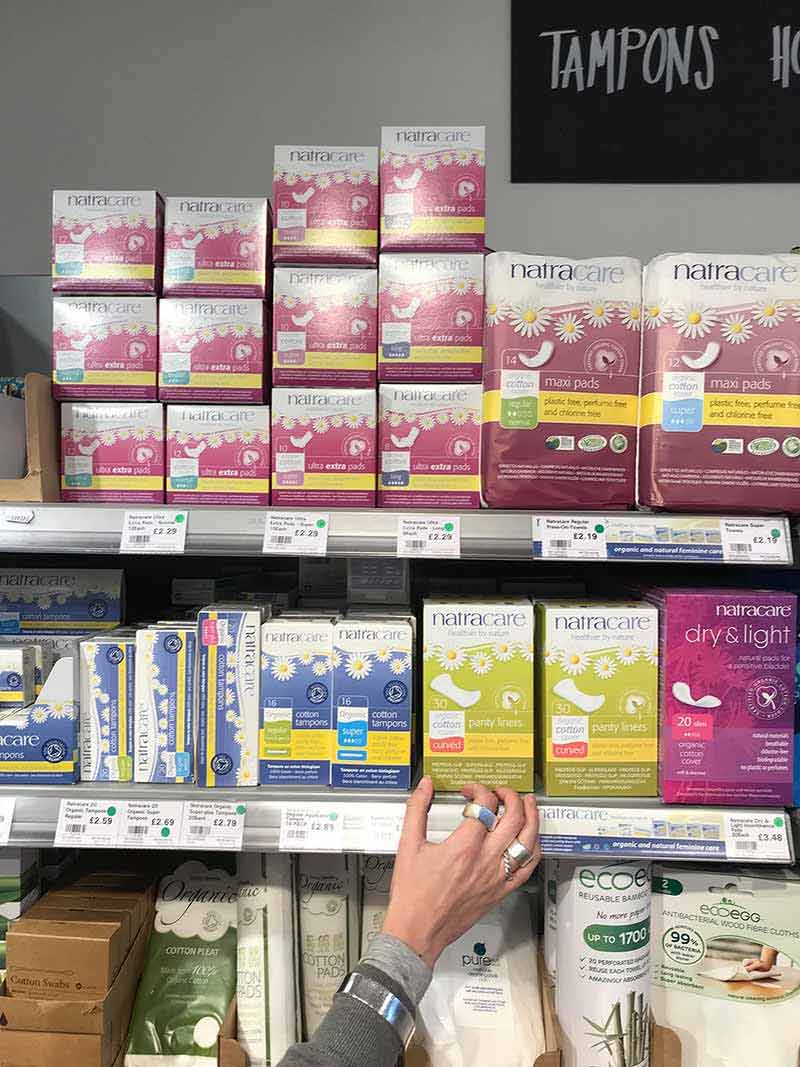 How can everyone help to fight period poverty?
If you're based in Brighton and Hove, buying your menstrual products from Infinity foods will ensure we all help in the process of ending period poverty. We donate 5% of our sales to local women's charities that provide free menstrual products to people in need and working to help find period poverty solutions in our local area.
Share with your friends what period poverty is and why we need to put an end to it. Buy menstrual products consciously. Support your local women's charities. Raise awareness.
Who is Infinity Foods?
Infinity foods Shop and Bakery have become an institution in Brighton and the UK, established in 1971 and in 2019 celebrating 40 years of being a workers cooperative. We are often referred to as the granddaddy of the health food shop, with freshly baked organic bread and organic fruit and vegetables sourced as close to home as possible.