There are many things that Natracare's panty liners and pads have in common. They are Totally Chlorine-Free, biodegradable, compostable, plastic-free, MADE SAFE certified, and more. This is because we're all about the health of the planet and our bodies first and foremost.
But what differs between our panty liners and incontinence pads? They are both made with certified organic cotton, ecologically certified cellulose pulp, and plant starch so what sets them apart?
Panty liners
Panty Liners are used for a wide range of personal care needs. Panty liners can be used for managing sweat, period blood, bladder leaks, or everyday discharge. For periods, panty liners can be supplementing to a menstrual cup or tampon, offering extra confidence on spotting days before and after your period. Used everyday, liners help absorb discharge to prevent underwear discoloration due to acidic pH of your discharge. Panty liners are a great option for many scenarios when you need low-absorbency protection.
In short, panty liners are smaller, thinner, and absorb less than incontinence pads. Our normal and long liners are more absorbent than the other liners in the Natracare range – we recommend them for use as a micro-pad. This could either be a good starter pad for teens starting their period or if the level of bladder leaks experienced is minimal.
Need extra protection?
Natracare panty liners are perfect for 'just in case' scenarios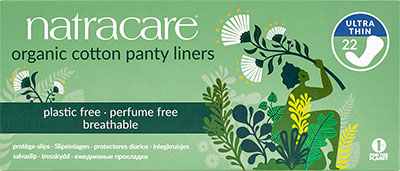 Dry & Light incontinence pads
Natracare Dry & Light incontinence pads are designed specifically for those with more sensitive or weaker bladders. Absorbing 109 ml (slim style) – 176 ml (plus style) of urine (depending on size), these urinary incontinence pads are longer and offer more layers for more absorbency than our panty liners. We've tested their absorption capacity to the international standard for incontinence products, so you can make an informed decision about which style is best for your level of bladder weakness.
Natracare Dry & Light
Plastic free pads for bladder leaks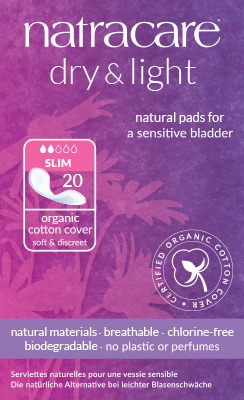 Some people who experience light bladder leaks will opt for panty liners over pads like our Dry & Light range to avoid feelings of shame that are often attached to leaks. But choosing the pads specifically designed for this purpose will help you to gain more secure protection while being part of breaking the stigma for good.
Though Natracare's period panty liners and incontinence pads are made from the same natural materials, their difference is in three main categories: size, absorbency levels, and performance design. Yet with both you can be confident they contain zero plastic, no Super Absorbent Polymers, and are made with your body, the animals, and the planet in mind.