With so many period products to choose for your menstrual cycle, it can get a little overwhelming, particularly if you're new to periods. Should I use disposable or reusables, applicator or non-applicator tampons, or should I use pads or panty liners… it's easy to get confused.
Are pads and panty liners the same thing?
No, pads and panty liners are different. Menstrual pads and panty liners have different uses depending on the heaviness of your flow, where you are in your cycle, and what you find most comfortable.
If you're not sure which to use, check out the differences between pads and liners below.
Panty Liners
Like pads, panty liners stick to the inside of your underwear with a small adhesive strip on the back. They are much thinner than pads, and are used when there is less fluid to absorb, such as small amounts of blood or daily discharge – used when there is less fluid.
What are panty liners for?
light urinary incontinence;
vaginal discharge;
back up for unexpected periods;
lighter flow days at the beginning or end of your period;
addition to using a tampon or menstrual cup;
soaking up sweat during a gym or workout session, or a really hot day.
Types of panty liners:
Panty liners come in a wide variety of shapes; curved, ultra-thin, mini and more. Check out our selection of natural cotton panty liners.
Plastic free panty liners
No matter which shape or size of panty liner you choose, always choose plastic free and biodegradable.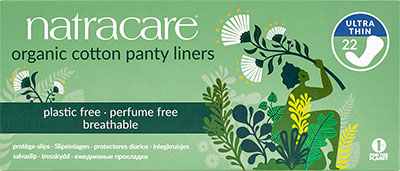 Period Pads
Period pads also stick to the inside of your underwear. They are thicker and more absorbent than panty liners – and best used for heavier flows.
What are period pads for?
Heavier flow days at the beginning or middle of your period
Used during sleep instead of a tampon to avoid TSS
Sometimes used instead of incontinence pads; this is largely to do with taboos around continence.
Types of menstrual pads:
Our biodegradable, organic cotton sanitary pads are effectively absorbent for every flow. From regular to maxi pads, pads to with wings and without, you'll be able to find a pad that works for you. Most mainstream brands of liners and pads will be made with plastics, perfumes and synthetic materials all of which can irritate sensitive intimate skin.
If you're using pads or liners for bladder leaks, menstrual pads won't be right. Try out plastic-free incontinence pads instead.
These are guidelines for using panty liners and pads. Your period shouldn't never feel like an inconvenience! Choose the products you find most comfortable, and the ones that work best for you!
If you've got any questions, tweet us or leave a comment below!