When you're trying to make environmentally friendly product choices, 'organic' is often a buzz word that comes to mind. But is organic really better? And is it a rule of thumb that extends to organic panty liners? Read on to find out!
Is organic better for the environment?
In short, yes. If something is certified organic, it means that it's been grown and produced without the use of chemical fertilisers, toxic pesticides, or any other chemicals of concern. This means that, in general, organic is better for the environment for multiple reasons, including:
No toxic-pesticides or insecticides means organic farming works with the environment
Dangerous artificial chemicals won't leach into waterways
Soil and creatures are better protected from harmful chemicals
Biodiversity can be encouraged to flourish with organic farming methods
More sustainable farming practices that don't deplete soils of nutrients and avoid soil erosion are used
What's more, organic cotton specifically is better for the planet than conventionally grown cotton as it uses less water and energy to grow and produce it. This is exactly why Natracare panty liners are made with organic cotton.
Try Organic Cotton
At Natracare, we know that organic cotton is a better choice for the planet. That's why we only ever use certified 100% organic cotton.
Are organic cotton panty liners more sustainable?
In most cases, organic cotton panty liners are more sustainable than conventional panty liners. Especially if they're also plastic free and compostable like ours.
Most conventional panty liners are made from a combination of plastic, wood pulp, and non-organic cotton. Choosing liners made with certified organic cotton is a step in the right direction. They will have at least one material that is less resource intensive to make and has used less water and energy in growth and production.
Organic cotton also has stricter rules on how it's processed after being picked. This is a really good thing as it means the cotton is cleaned and bleached without the use of chlorine, which otherwise can lead to harmful by-products like dioxin and persistent organic pollutants.
It also means that the cotton in your panty liners won't have been grown using harmful chemicals that will remain in and spread throughout the environment. Cotton is the most heavily chemical sprayed crop in the world.
Organic panty liners that are also plastic free and biodegradable are even better for the environment because they'll decompose safely and more quickly after use than plastic based liners, which can remain intact for 500 years.
Certified Organic Panty Liners
Our panty liners are made using certified 100% organic cotton and are breathable. Perfect for everyday use.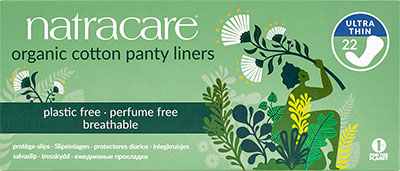 Are organic panty liners better for you?
Not only are certified organic panty liners more sustainable, they're also gentle on your skin. Conventional panty liners often contain chlorine bleached materials to improve their appearance – making them look clean. Dioxins are by-products of chlorine bleaching and are carcinogenic.
What's more, conventional panty liners are often scented with artificial fragrance that can cause irritation. Some panty liners also have a plastic cover and contain super-absorbents – both have been linked to irritation in those with sensitivities or allergies.
Using organic panty liners can be a soothing alternative to those suffering with vulvodynia or allergic irritation. So, if you have any sensitivity a natural option might be the better option for you. Natracare natural panty liners are made from 100% organic cotton, sustainably sourced wood pulp and a compost-friendly glue. Our biodegradable panty liners are chlorine and fragrance free – better for your body and the planet.
You can read more about why we need to switch to organic cotton here!