Every two hours a woman will die of ovarian cancer. A shocking but very real fact. Although described as 'rare', 7,000 women a year in the UK are diagnosed with the disease.
80% of cases occur in women who are over 50, but younger women can be affected too.
If two or more women in your family have had breast or ovarian cancer, you might be at a greater risk of developing ovarian cancer.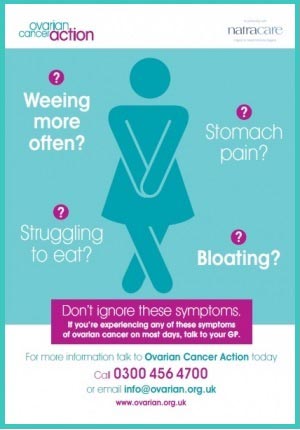 Ovarian cancer is a life threatening illness but if caught early enough can be treated. Smear tests don't detect ovarian cancer. It is therefore essential for the sake of your own health and the health of those around you that you know the symptoms.
What to look out for:
Persistent stomach pain
Persistent bloating
Finding it difficult to eat or feeling full quickly
Needing to wee more often
If you are experiencing any of these symptom most days then you should visit your GP. It may not be anything to worry about but it's better to get checked out.
Ovarian Cancer Action is dedicated to improving survival rates for women with ovarian cancer by increasing awareness of the disease and in particular the symptoms.
For September and October 2015 Natracare is partnered with Ovarian Cancer Action in support of a pilot campaign they are running to inform women of the critical symptoms. The campaign sees symptom awareness posters in ladies washrooms in 6 shopping centres around England. If the campaign proves effective in raising awareness it will be launched nationwide.
For further information please visit www.ovarian.org.uk.