An appointment with your OB/GYN is just as important as a regular health check, eye test or dentist appointment! Find out why it's crucial to see the OB/GYN regularly and how you can make the most of your visit to stay on top of your vaginal health. These tips for visiting your OB/GYN will help you maintain good hygiene throughout your menstrual cycle and otherwise.
Find the right gynecologist for you
This is one of the most important steps in making the most of your OB/GYN appointment. Finding an OB/GYN is like finding the right therapist. They need to make you feel at ease when you're talking about such a private and personal topic like vaginal discharge, sexual history.
When looking for the right OB/GYN for you, Alisa Vitta of Flo Living, suggests that the first questions: Does this person value what I value? What's their personal self-care practice?
Be prepared to be honest
"Productive and effective healthcare only takes place when clear lines of communication and trust are established,"
— Dr. Antonio Pizarro, M.D., a board-certified gynecologist in Shreveport, Louisiana.
There is no need to ever lie to your doctor or feel ashamed to tell the truth, because they can't give you the best care without the full honesty. If your OB/GYN doesn't help you feel comfortable enough to be honest about your health habits, sexuality, fears, and concerns, it may be time to switch.
If the nerves are getting to you, be sure to let the doctor know. Some ideas to help with OB/GYN anxieties include: bringing headphones to listen to music, have a mirror to see what is going on, to have them (or to have them not) tell you what is going on step by step.
What to do before a gynecologist visit?
How often you visit your OB/GYN depends on your health concerns and needs. It is recommended to visit your OB/GYN for an annual check-up, however you may only need to have a Pap Test once every 2-3 years. For any questions on OB/GYN visit frequency, ask your doctor or health care provider.
Should I shave before going to the gynecologist?
There's no need to. How you groom the hair in your pubic area is entirely your choice! However, it's important to be clean, so be sure to shower or use an intimate wipe prior to your visit.
Freshen up on the go
If you're in a hurry and don't have time to shower before your appointment, Natracare intimate wipes are perfect for a quick refresh!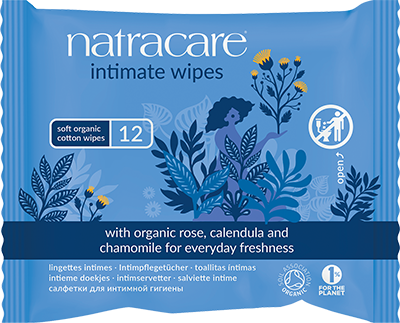 Can a gynecologist check you on your period?
Although not necessary, periods can affect the results of your Pap test, STI testing, vaginal discharge, and any hormonal changes. So, it may be best to reschedule an OB/GYN visit on your period.
You are in control of your health care
To get the most out of your appointment, don't be a passive patient. Be informed about which test and procedures your OB/GYN may perform during the visit (Good job on clicking on this blog!). For any questions or concerns you want to discuss, write them down in preparation.
What to expect at your first OB/GYN visit (or twentieth)
At the beginning of your visit, you will be asked to pee in a cup – so come hydrated! This is for the OB/GYN to perform a "dipstick" test to check not only if you're pregnant but also for any bacteria or other abnormalities.
Your doctor will then ask you a few questions about your period history and sexual activities in order to asset the best treatment and test for you and your reproductive health.
What will my gynecologist ask me?
Common questions that your OB/GYN will ask include: the first day of your last period, any menstrual abnormalities (e.g., pain, smell, discharge, frequency, flow, etc.), and recent sexual activities (be sure to also inform if sex is painful and any unsafe sex).
Now it's show time: the pelvic exam! A typical pelvic exam includes three parts:
The external genital exam: to look at your vulva which includes everything you can see on the outside of your body, like your labia, clitoris, and the opening of your vagina.
The vaginal and cervical exam: To help with this, your doctor will use a speculum to get a better view of the vaginal walls and cervix. While the speculum is inserted, your doctor will use a soft brush or a flat scraping device to take samples for your Pap test to test for certain STDs and HPV. We're not going to lie… This part can be kind of weird and a little uncomfortable, but only takes about a minute or so! You can request to view your cervix with the use of a mirror which can be incredibly fascinating and empowering to see.
The bimanual exam: This is to check on your uterus and ovaries by placing a hand on your lower abdomen and inserting one or two of their gloved, lubricated fingers into your vagina. This also only takes around a minute.
Other OBGYN visit tips
Your reproductive health and OB/GYN visit can be a bit overwhelming. Here are some other things you may not know:
You don't need a reason or issue to schedule your first appointment.
What age to visit the OB/GYN depends on you, but it is recommended the first visit to be at the age of 13-15. This is a great way for you to develop a relationship with your gynecologist, so you are more comfortable sharing personal information in the future.
If you're under 21, you don't need a pelvic exam yet.
You can get hormonal birth control without having a pelvic exam and Pap smear.
The OB/GYN can be a bit nerve-racking but knowing what to expect during your OB/GYN visit and preparing for your appointment can help you get the most out of your OB/GYN visit and ease the nerves.
In the words of Alisa Vitta, "Always remember, that once you have the right information about how your body really works, you can start making health choices that finally start to work for you! You can do this — the science of your body is on your side!"
What helps calm your nerves before your OB/GYN visit? Let us know in the comments below!