In 2019, Natracare became the first period product brand to join 1% for the planet. We donate 1% of our annual turnover to environmental organisations that tackle our planet's most pressing environmental issues.
Why did Natracare join 1% For the Planet?
The environment has always been at the centre of everything Natracare does – so becoming a member of 1% for the Planet felt like a natural choice and a good way of supporting the ecosystems that support us each  day.
Over 2,000 environmentally conscious companies and thousands of non-profit partners make up the 1% for the Planet network across 60 countries. More than $435 million has been donated by members since the network's launch in 2002 and we're proud to make up part of that contribution.
How much does Natracare donate?
Currently, our 1% pledge means that we've donated over  to environmental causes since joining in 2019. As we grow as a business, the amount that we donate each year will grow, too.
You can see a financial breakdown of the different giving categories that we've donated to, and the amounts, below: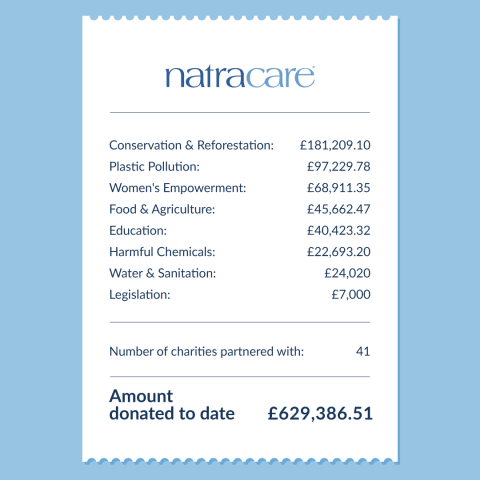 Conservation and Reforestation: £181,209.10
Plastic Pollution: £97,229.78
Women's Empowerment: £68,911.35
Food & Agriculture: £45,662.47
Education: £40,423.32
Harmful Chemicals: £22,693.20
Water & Sanitation: £24,020
Legislation: £7,000
Do you work with any other charity partners outside of 1% For the Planet?
Yes! Our giving covers three pillars: People, Planet, and Products and this includes donations on top of 1% for the Planet. Examples of partnerships we've engaged in that don't fall under our 1% for the Planet membership include:
SARSAS
Babassa
The World Remimagined
Read more about our giving strategy here.