By now you've probably heard of the infamous fatbergs forming in our sewers. These fatbergs are made up of all the things you're not supposed to flush –  tampons, pads, nappies, and especially wet wipes.
There are 366,000 of these sewer blockages every year. 93% of these blockages are caused by wet wipes, which are often made from plastic.
At Natracare we like to solve problems, so we're launching Europe's first truly flushable Moist Tissues.
Proudly Fine to Flush!
Water UK recently announced a new and rigorous test for wet wipes and moist tissues, in an attempt to clarify what can actually be safely flushed down the toilet.
We are proud to say that our Safe to Flush Moist Tissues are the first and only wipe alternatives to achieve the Water UK requirements and the "Fine to Flush" logo!
Across the world,around 14,000 wet wipes are used every second, if everyone swapped over to 100% truly flushable paper-based alternatives, it would help halt global plastic pollution and reduce harm to our oceans.
The Safe to Flush Moist Tissues are 100% compostable and moistened with natural and organic ingredients, meaning they're suitable for all skin types, including sensitive baby skin and that of young children; they are hypoallergenic and fragrance free.

Flush Safely
The world's first TRULY flushable alternative to wipes is here, and – just like toilet roll – is made of 100% tissue paper.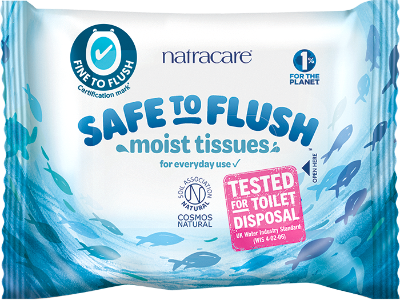 What can they be used for?
Natracare Moist Tissues are for cleaning bottoms – women who are menstruating; parents of young children; elderly people; disabled people and their carers, and those who find it painful or difficult to wipe with paper. You can use them to wipe anything you like!
Natracare Safe to Flush Moist Tissues can be found in Waitrose and available at independent health stores around the UK, find stockists here.
They retail at £1.99 for a pack of 30. Find out more about the Natracare Safe to Flush moist tissues.
Find out more about Fine to Flush Certification.