At Natracare, we believe that people aren't able to survive without allowing nature and wildlife to thrive. As a cruelty-free and vegan brand, we love sponsoring other organisations that have the welfare of animals at the heart of what they do. That's why we support the Bristol-based organisation Wild Place Project as part of our 1% for the Planet membership.
What is the Wild Place Project?
Owned by the Bristol Zoological Society, the Wild Place Project is a wildlife conservation centre and family attraction based in Bristol. With over fifty acres of animal exhibits, meadowland, gardens and woodland, the Wild Place Project aims to ensure a sustainable future through the means of conservation and education. Visitors can explore, keep an eye out for and learn more about the variety of animals in conservation – from meerkats and cheetahs to giraffes.
The Wild Place Project has been running for over seven years, but the last 12 months have been monumental for the organisation. This past year has marked the opening of Bear Wood – their biggest exhibit yet – along with a whole host of exciting births and new arrivals.
What is Bear Wood?
Bear Wood is the latest award-winning exhibit at the Wild Place Project, which opened its doors in July 2019. At 7.5 acres, it's their largest exhibit yet and has become home to European brown bears, wolves, lynxes, and wolverines. Natracare is very proud to have been a key sponsor of Bear Wood as part of our 1% for the Planet membership.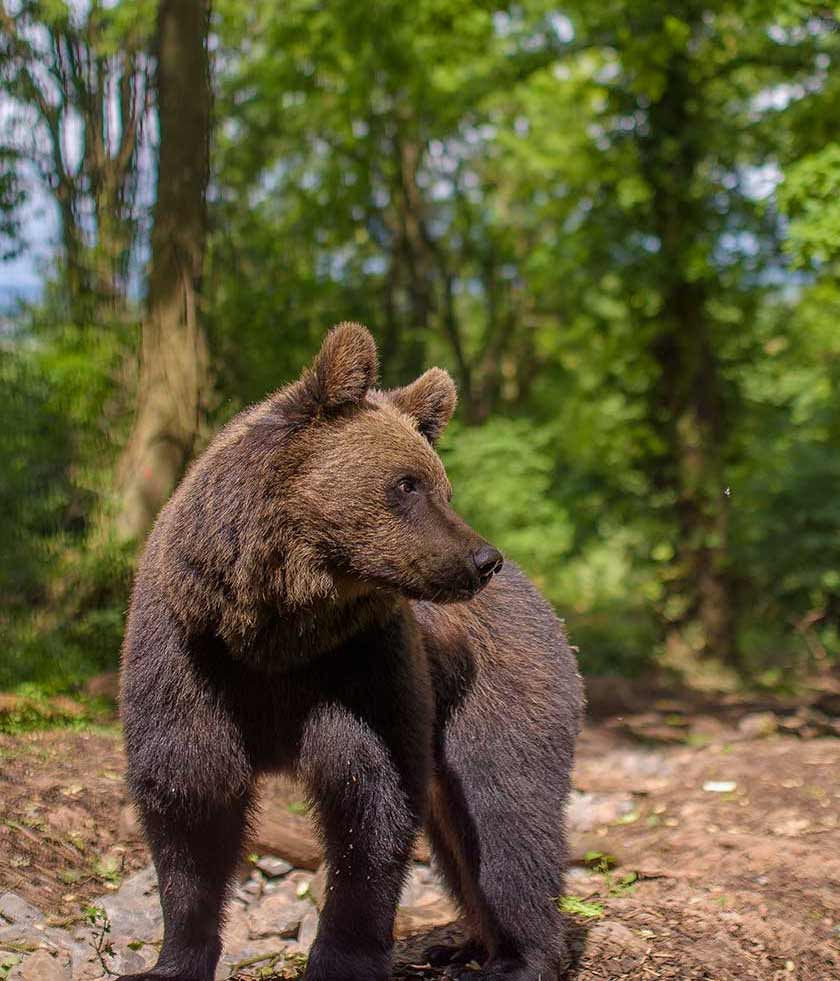 Visitors to Bear Wood can journey back in time and discover the history of British ancient woodland in the UK's largest, most ambitious brown bear exhibit. Winding along a 700m raised timber walkway through the trees, visitors learn about the species once native to our woodlands, those living here now, and what is at stake for the future of British wildlife.
Bear Wood aims to conserve ancient woodland, to educate everyone on the importance of preserving native habitats, and to inspire the next generation of advocates for conservation through education.
Building Bear Wood
The design and build of Bear Wood was a huge project at the Wild Place Project, requiring a broad team of professionals with a range of expertise. Implementing the project involved constructing a 700m walkway through the woodland, as well as five new animal enclosures. With conservation being the driving force behind the Wild Place Project, it was essential that Bear Wood was built with minimal disturbance to the pre-existing wildlife.
The team at the Wild Place Project faced unique challenges as Bear Wood was their most ambitious, large-scale project to date. Managing animal arrivals from across the world and adhering to regulations from the British and Irish Association of Zoos and Aquariums required specialist knowledge, with Bristol Zoological Society's animal experts taking a hands-on role throughout the process. Contractors and the in-house team worked flexibly to rapidly resolve issues, including challenging site topography, preventing impact on the existing woodland, and harsh weather conditions.
Despite adversity, the project was a complete success, delivered from concept to construction in just two years, and launching in July 2019. For the first time ever in a UK Zoo, the Wild Place Project mixed European brown bears and wolves within the same paddock at Bear Wood.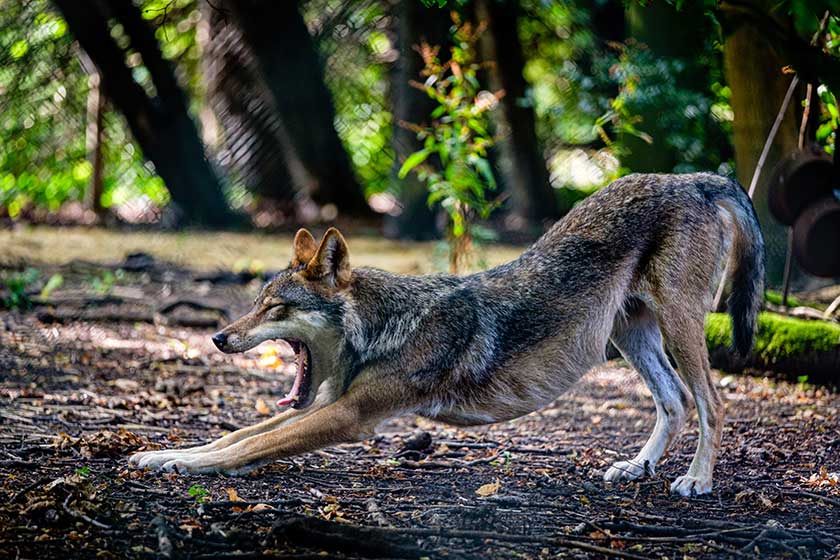 The five wolves and four bears spent several months living in adjacent paddocks, and getting used to the sights, sounds and smells of each other. They were then mixed together and after some initial playful chasing, now live happily side-by-side in Bear Wood.
Lynx kittens at Bear Wood
Our sponsorship of Bear Wood has contributed to the Wild Place Project's conservation breeding programmes. In fact, this year the organisation were pleased to announce that their lynxes had successfully bred two kittens – just a year after settling into their new home in the woodland exhibit.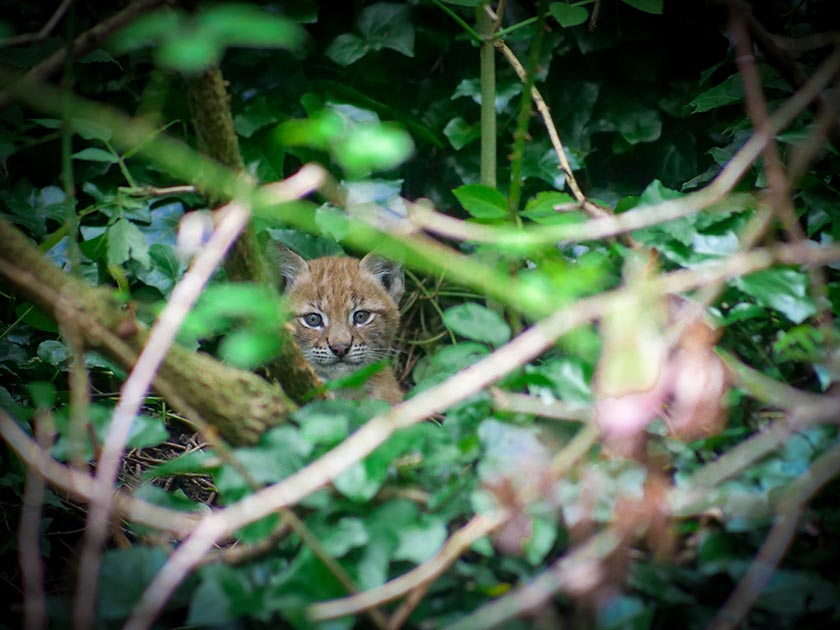 The kittens were born in May and are believed to be the first lynx litter in a UK Zoo this year. The sisters', Lox and Kinsey, names were voted for by the general public – Lox is old English for lynx and Kinsey is the name of caves in Yorkshire where lynx bones have previously been found.
Bear Wood in the community
As part of the Bear Wood project, the Wild Place Project team built a new classroom space, immersing children in nature while they learn about the importance and fundamentals of conservation. Since the exhibit's launch, education rangers have worked with over 900 pupils in 23 school groups, inspiring a love of wildlife among young people in the South West. The programme also includes 1:1 support for pupils excluded from mainstream education, and a secondary school 'nurture group' for those struggling with formal education.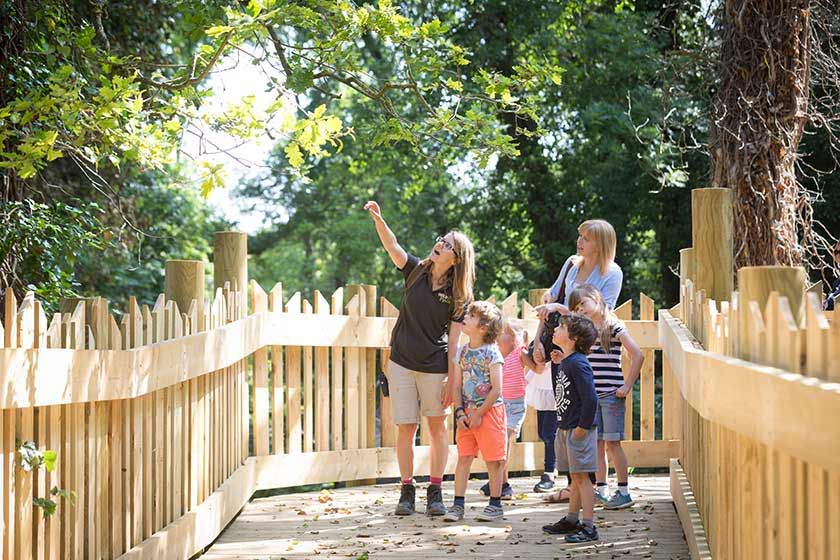 Bear Wood also provides a new opportunity for wellbeing programmes which positively impact a diverse range of people within the local community. During the summer of 2019, wellbeing sessions were delivered to groups including LGBTQ+ teenagers with mental health charity Off the Record, and family groups from deprived areas and ethnic minorities. Further to this, a partnership with Bristol Children's Hospital provides fortnightly sessions for children on Neurorehabilitation wards, including outdoor activities and learning about wildlife as part of their therapy.
The Wild Place Project and Bear Wood specifically are a fantastic example of how people and nature can thrive together, so long as we prioritise conservation.
Find out more about our partners at the Wild Place Project.