As our bodies menstruate, we can lose key nutrients in the period blood. The nourishing power of plants (especially herbs) can help replenish these important vitamins and minerals that are essential for keeping our bodies at their best!
We've teamed up with our friends at REBBL to share our favorite super plants and super herbs for menstruation:
Ashwagandhas
Ashwagandha is known for its ability to relieve stress and anxiety. Yet this super herb may also help you get a good night's sleep and balance hormones (especially testosterone). One tasty way to add these to your diet is through snack balls or energy bites.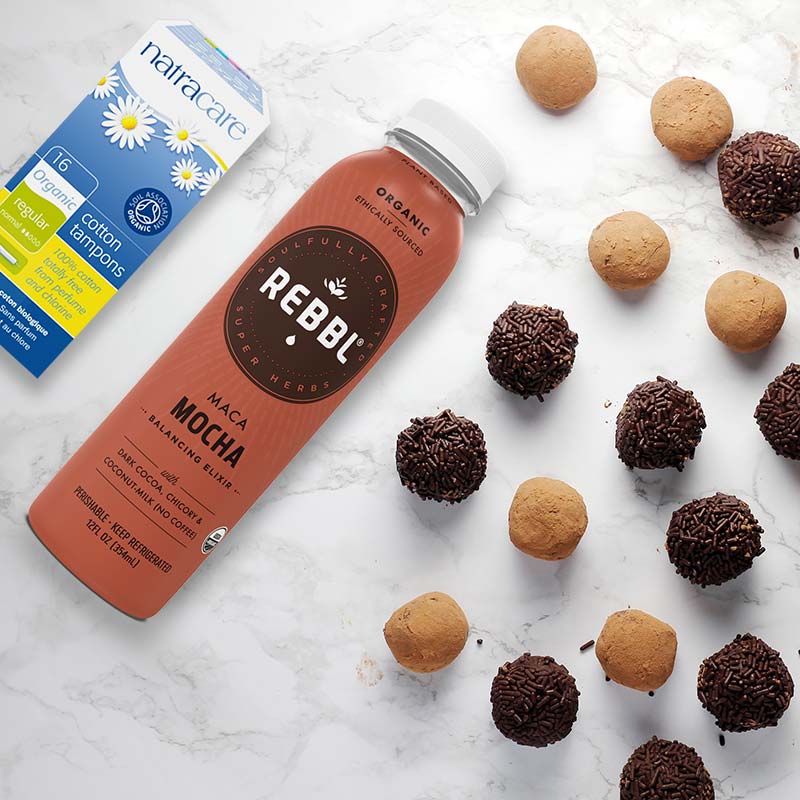 Cacao
Cacao is plant origin of chocolate, before it's heated and processed. Cacao is chock full of iron, an essential mineral that supports the immune system and cognitive function.
Cacao is also high in magnesium, which helps to relieve PMS symptoms and painful cramping. Magnesium also plays a role in maintaining the health of muscles. According to Dr. Lara Briden, a clinician who spoke with the period-tracking app Clue, this essential mineral can also reduce stress, improve insulin resistance, and can help rid the body of old estrogen to make way for new, healthy estrogen.

Have a natural period!
All Natracare products are made using natural, sustainably sourced, biodegradable materials.
Maca
Maca stems from a Peruvian root that is traditionally used to help regulate hormones (especially the hormone estrogen), and ease stress. With its abundance of protein, unsaturated fats, and minerals, maca can also help fight fatigue and decrease mood swings.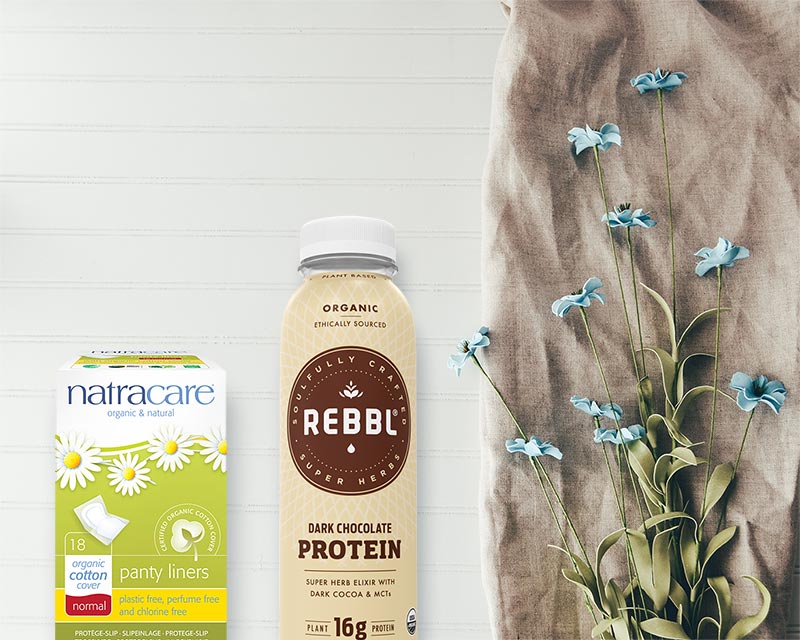 Turmeric
Turmeric is a powerful anti-inflammatory and contains incredible antioxidants. Many women experience an increase of inflammation in their bodies in their second luteal phase and the first few days of menstruating.
If you want to play wizard at home and curate your own PMS elixir, here's a recipe for our favorite tonic:
2 oz filtered water
6 oz organic almond milk (or another non-dairy milk)
1 tbsp matcha or cacao
¼ – ½ tsp of super herbs of choice
Optional sweetener
Blend or use a hand frother and heat up or serve over ice.
Adaptogens and super herbs can be an enchanting addition to your PMS-fighting routine and may be natural remedies for your menstrual cramps and bleeding.
What is your favorite to use? Let us know on Instagram!  And be sure to check out REBBL.
What is Rebbl?
REBBL (which stands for Roots, Extracts, Berries, Bark and Leaves) sources the transformational power of plants with its a line of coconut-milk based organic elixirs that are infused with super herbs and adaptogens. Each bottle is made with plant-based, ethically-sourced ingredients and helps fight human-trafficking, with a portion of sales donated to Not for Sale organization.