Natracare is proud to support The World Reimagined and its mission to educate and explore the history and future of the Transatlantic Trade in Enslaved Africans.
In the summer of 2022, The World Reimagined invites you to take a journey of discovery across Bristol through a sculpture trail that explores the many layers of our shared history, and how we can all make racial justice a reality. From 13 August until 31 October, The World Reimagined will transform Bristol's streets with a free art trail of 10 Globe sculptures – each designed by an individual artist who is responding to themes ranging from Mother Africa to Still We Rise and Expanding Soul.
The trail takes place at the same time as trails in six other cities as The World Reimagined invites people across the UK to acknowledge this history and support the work of brilliant community activists and organisations. Supported by Bristol City Council, the globes will bring people, families, and communities together to talk about how we understand our history; how our past shapes our future; and how we can act for social change.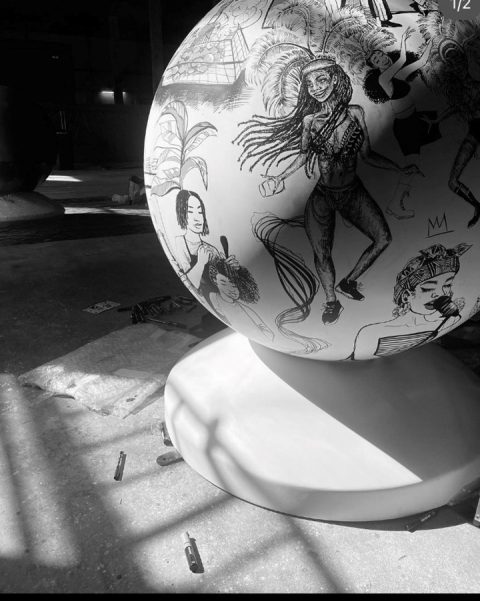 Jasmine Thompson
, Foundations for the theme:
Expanding Soul
. Photographer: Stuart Whipps
The Globes have been created by artists from Bristol and across the UK, bringing the city to life with diverse experiences and creative styles. They include Emma Blake Morsi, 3Dom, Godfried Donkor, Adam Grose, Bandele Iyapo, Felix FLX Braun, Oshii and Jasmine Thompson. A tenth Globe has been created by the Bristol-based artist Michele Curtis, inspired by collaboration with local communities. Schools have also got involved, with approx 14 small globes being featured on the trail created by schools who have taken part in The World Reimagined learning programme this term.
Connected by a digital platform that enables visitors to dive into a unique heritage collection, the trail will stretch from Royal Fort Gardens to St Paul's, and across the City Centre. Visitors will be able to plan their days out in early August when the full trail details will be released.
The trails are part of a broader programme encouraging and supporting conversations around racial justice that are already taking place in Bristol. The World Reimagined has announced the incredible individuals and organisations who have been awarded grants through its INSPIRE programme, made possible by the Esmée Fairbairn Foundation. The grants celebrate and honour the work that has been done in Bristol over decades for racial justice and hope to grow their network and support base for the future.
The trail will shine a bold new light on Bristol, along with an incredible programme of events for everyone of all ages, running from 13 August – 31 October. It will bring people together to exchange experiences, creativity, stories and ideas on some of the biggest questions for our future. The countdown is well underway and there is plenty going on for families throughout the summer months!
Join them from 13 August as we reimagine the world – together.
---
Notes to Editors
The World Reimagined is a ground-breaking, vibrant art education project to transform how we understand the Transatlantic Trade in Enslaved Africans and its impact on all of us so that we can make racial justice a reality, together. Supported by Official Presenting Partner SKY, the project will see a trail of large Globe sculptures across seven cities including: Birmingham, Bristol, Leeds, Leicester, Liverpool City Region, London, and Swansea. From 13 August to 31 October 2022, the globes will be displayed across these cities, inspiring and galvanising communities to better understand what it means to be Black and British. Bringing to life the reality and impact of the Transatlantic Trade in Enslaved Africans by remembering the past, whilst still moving forward – celebrating the spirit and culture that has endured so much suffering.
The trails are at the centre of learning, community and heritage programmes that invite everyone to take part.