Natracare has the highest rating for ethical period products. Natracare has an outstanding Ethical Accreditation Index score, which places it at the top of the table for the Sanitary Protection sector for menstrual products by the Ethical Company Organisation and Good Shoppping Guide.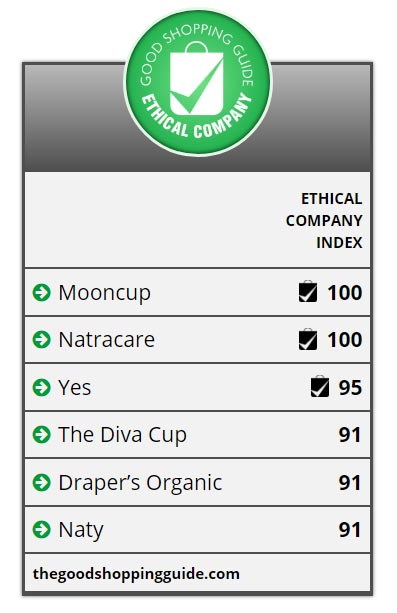 We all want and need to make changes to help protect our health and environment, but with an ever increasing minefield of green and ethical claims out there, it can be hard to know which brands we can really trust and those which will really make a difference. Independent and respected awards and accreditations provide an easy way to determine the true green brands.
Our ethical rating
Natracare has once again been recognized for its ethical and environmental credentials, having been given an award from the Ethical Company Organisation, a fully independent endorsement which outlines the 'premier league' of genuine corporate social responsibility and ethical companies.
The Natracare brand philosophy has always been to provide products that never compromise health or the environment. Many brands of sanitary protection contain crude oil plastics, synthetics, harsh chemicals and even dioxin residues, which can cause intimate irritation for women and thousands of years of pollution for our global environment. All Natracare tampons, pads, liners and wipes are 100% totally chlorine-free, plastic-free and crude oil derivatives-free.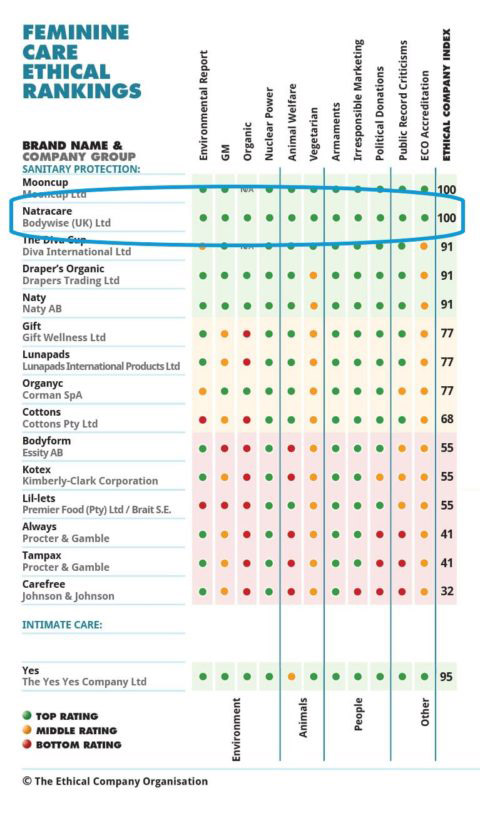 In addition to the Ethical Award, Natracare was the first period products brand to have obtained an International
Environmental Product Declaration
(EPD), a scientifically validated, independently-assessed life cycle analysis which determines the carbon footprint of the products as well as a Green accreditation officiated by the Nordic Ecolabel organisation. The entire range is USDA Biobased accredited and has also been awarded the LOHAS award for its environmental and sustainable criteria.
Don't take our word for it
At Natracare, we know our products are great, but don't take our word for it! Take a look at the awards and certifications our products have achieved instead.