Women and girls across the world struggle to pay for basic period products. The effects can be damaging to their health, well-being and self-esteem. 28th May marks Menstrual Hygiene day: a chance to bring together people and organisations to promote menstrual hygiene management. A day to raise awareness of the challenges face by those who menstruate worldwide and the amazing work that is being done to change the status quo. No more limits.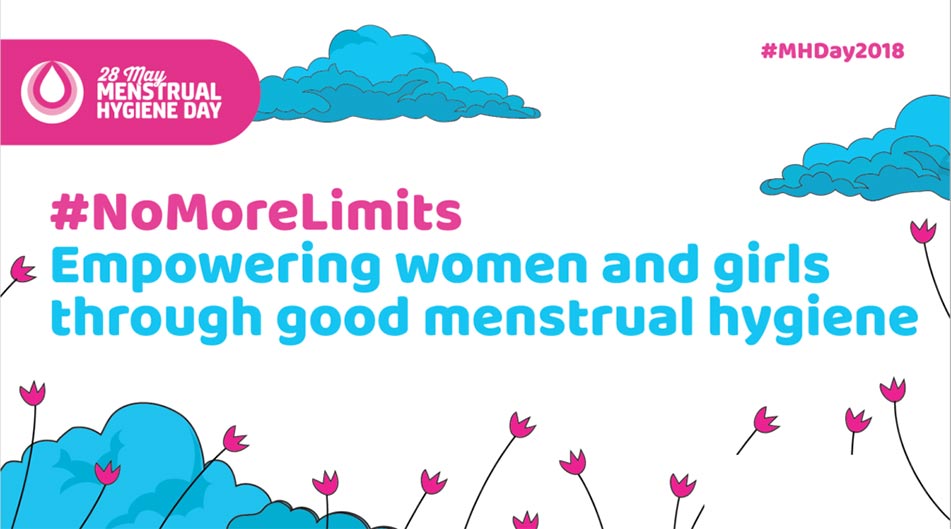 Vision
To create a world in which every woman and girl can manage her menstruation in a hygienic way – wherever she is – in privacy, safety and with dignity.
Mission
Menstrual Hygiene Day will help to break the silence and build awareness about the fundamental role that good menstrual hygiene management (MHM) plays in enabling women and girls to reach their full potential.
Partnership
Menstrual Hygiene Day is a global platform for partners across all sectors to engage in action, advocacy and knowledge-sharing around menstrual hygiene management.
This is a great opportunity to highlight some of the amazing work being done to fight period poverty in the UK and globally. And also how you can get involved!
Period.
'Period.' is a non-profit organisation run by a group of young activists in the U.S. They believe all people have a right to safe, clean menstrual products and are aiming to change the conversation around periods and provide care for those in need. 'Period' delivers packs to those in need, runs educational programs to tackle the taboo and runs campaigns and events to raise awareness.
Bloody Good Period
'Everyone deserves a bloody good period.' Bloody Good Period provide asylum seekers and homeless people across the UK with period products. They want to end period poverty by giving these products to those who can't afford them and their ambition is to supply many more food banks and drop-in centres across the UK so that bloody good periods can be had by all!
> Donate to Bloody Good Period
Action Aid
Periods don't take a break during a humanitarian disaster. Conflicts and natural disasters can leave women without access to basic clean and safe sanitary products and can often lead to women using unsafe alternatives. At a time when they need them most, Action Aid provides vulnerable women and girls with period products.
Food Banks
A good way for you to join the fight against period poverty is to donate to your local food bank. Food banks work tirelessly to combat poverty, providing food and support to those who need it. Multiple factors can result in someone struggling to pay for food and other necessities including period products. Food banks provide a lifeline to those in crisis.
> Donate to your local Food bank
Plan International UK
No girl should have to feel ashamed of her period. That's why Plan International have written a Menstrual Manifesto. Their report highlighted the issue of period poverty and the importance of better education on menstruation. They are calling for a change in the conversation about periods and for companies to act as part of the solution. They have researched the problem in depth and are working with a number of organisation to find solutions to the period poverty problem.
> Donate to Plan international
Red Spot and She Innovates
In rural areas in India and Africa, large numbers of girls stay home during their monthly periods because they cannot afford disposable sanitary pads. This negatively impacts gender equality in terms of education, employment, and other areas of opportunity for girls and women. Red Spot runs programs in India to educated both girls and boy about menstruation, aiming to break the taboo through gun and interactive means. SHE (Sustainable Health Enterprises) is helping women in Rwanda jumpstart social businesses to manufacture affordable period pads.
These organisations are leading the way in tackling the period poverty. They are not alone, there are many inspirational people and charities work against the odds to support those in need. And from the whole of Natracare we want to say thank you and we support you!
Find out more about menstrual hygiene day.
Find out more about what we are doing to help give back.