Natracare partners with Against Breast Cancer to raise a total of £10,000 to help fund research into secondary spread, the main cause of cancer-related deaths. The limited-edition packs will be available to purchase in stores and online across the UK during October, coinciding with Breast Cancer Awareness month.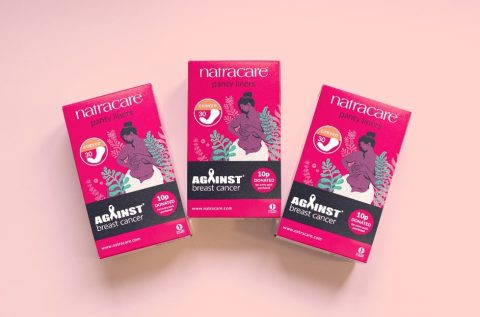 10p from each pack sold will be donated to Against Breast Cancer. It's a cause very close to Natracare's Founder, Susie Hewson, who has been through her own battle with Breast Cancer and has since made a full recovery.
Breast cancer is the most diagnosed cancer in women worldwide, with 2.3 million women diagnosed with breast cancer in 20201. While most cases of breast cancer occur in women, it does affect males as well. Roughly 390 men are diagnosed with invasive breast cancer each year in the UK alone2. This compares to around 55,000 cases in women3.
Natracare will be running a multi-channel consumer campaign throughout October to raise awareness of the symptoms and signs of breast cancer. Content will be posted on their blog, YouTube, TikTok, Twitter, Instagram, LinkedIn and in their monthly newsletter.
Campaign Manager, Sophie Crichton, is also organising an internal event with the brand's employees during this period, with guest speakers including Natracare founder and breast cancer survivor, Susie Hewson, Grace Hayes from Against Breast Cancer, and Lyn Harris, breast cancer survivor and founder of Kamu Cantik.
When asked about the event, Sophie went on to say;
"The event will celebrate Susie's recovery, educate Natracare colleagues and their guests how to check for abnormalities, and encourage everyone on the team to gain more understanding of real breast cancer encounters. It will be a fantastic opportunity, also, for our team to take pride in our ABC campaign and fundraising running throughout October, Breast Cancer Awareness month."
---
References
Globocan, 2020 – Cancer Today
Against Breast Cancer, 2022 – Breast cancer facts and statistics
Cancer Research UK, 2022 – Breast cancer in men
Notes to editors
Natracare is the first company in the world to provide plastic-free, certified organic cotton tampons and totally chlorine-free period pads and panty liners. Natracare products are biodegradable and can even be composted. Susie Hewson created the brand in 1989 in response to the growing danger to human health and the environment from dioxin pollution in the pulping industries with the chlorine bleaching of paper products.
Against Breast Cancer funds pioneering research into new treatments, tools for earlier diagnosis and advice to reduce the risk of recurrence and secondary spread. Working with expert scientists they want to increase the survival rates of all breast cancer patients and ultimately, discover a vaccine against breast cancer.