Guest Blog: Make-up artist & beauty expert Jules Cardozo-Marsh gives us a sneaky peak into her most prized possession – her makeup bag. From storage, shimmers, and makeup removers… take a look at her top products & tips…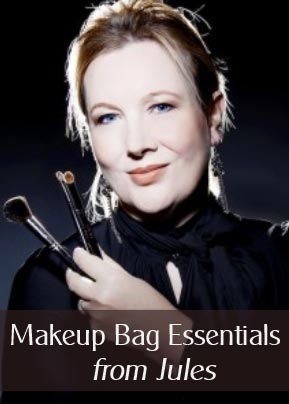 I am a natural beauty advocate, meaning I favour products that have not been tested on animals nor are loaded with nasty chemicals and I am also partial to organic brands but, due to the nature of my job I do have to carry High Street brands. I always carry a pack of Natracare Organic Cotton Make-up Removal Wipes as these are great for when I am on the go and I can freshen up knowing my skin is being cared for.
It's nice to look good & know you're looking after your skin
Base layers
Foundation can be one of two brands, either Giorgio Armani or COSMETICS à la carte. Both brands offer me a lightweight, luminous foundation that is easy to apply but lasts all day, crucial when I am rushing about looking after my clients.
Being very fair I have to be careful when choosing a concealer, I swear by YSL Touche Eclat, a sweep of this under my eyes in the morning makes me look wide awake, even if I'm not.
I am not a fan of powder as it tends to sit where you don't want it (i.e. in your fine lines) but STUDIO 10 has just launched Prime & Perfect, a finely milled powder that is as light as air and great for dusting down the T-Zone. This is now a staple in my bag as well as in my kit.
I am a bronzer girl at heart so I opt for a matt bronzer (avoid shimmer during the day) Dr Hauschka Bronzing Powder is ultra-fine, fantastic for contouring and gives a fabulous flawless look.
Eyes
I rarely apply eyeshadow during the day but when I go out I do favour a smoky eye, my 'go to' palette is by Urban Decay and the Naked Palette is a best seller. The key to perfecting a smoky eye is blend, blend and blend some more and it doesn't have to be perfect.
A sweep under my eyes in the morning makes me look wide awake, even if I'm not
I favour semi-permanent lashes so I can avoid applying mascara every morning but, if I had to choose a brand it would be Benefit BADgal Mascara, this mascara will have your lashes looking full and sexy in one swipe of the brush. Natracare wipes also remove waterproof mascara.
Lips
I adore wearing a red lip, Wild Ginger, by Tom Ford is best for those that are blessed with fair skin but can work just as well on Olive skin tones.
For everyday use, you can't beat Elizabeth Arden Eight Hour Balm, it has a multitude of uses and hydrates my lips leaving them baby soft.
emergencies
I carry Origins Peace of Mind for an instant refresh and relief if I get a headache, tweezers by Tweezerman and cotton buds, great for all sorts of emergencies.
The bag
As a make-up artist you might be forgiven for thinking that my make-up bag is HUGE… wrong! I have been in the industry for over 10 years so I know what I need to carry with me for every eventuality. Choosing a make-up bag that works for you is crucial, if you opt for a small, medium or large make-up bag make sure you look after it. Bags can harbour all kinds of germs so treat yourself and update that bag or pop it in your washing machine on a gentle cycle. I adore the designs of Emma Lomax London, they are made in the UK and I have mine personalised.
…and finally
I declutter my make-up bag every season, the trick is to choose make-up wisely and don't be tempted to purchase a whole 'look' from one brand just because a Sales Assistant thinks it will suit you, there are so many fantastic products on the market so mix and match according to your budget.
Got a question about Jules beauty regime? Find her on Twitter.
Explore organic cleansing wipes for when it's time to take off your makeup.