As a new mother, you may be looking to keep your skin and your baby's skin free from synthetic chemicals and harsh ingredients. With our award-winning Nursing and Maternity pads, you can be sure that only organic and natural ingredients are against your skin, whilst looking after your daily comfort and protection.
Because our pads and packaging are 100% polyethylene free, biodegradable and compostable, you are taking care of your child's future environment too.
---
Maternity Pads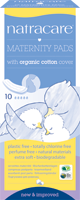 Extra long and comfortably padded to give confident and secure protection for the natural blood loss experienced after giving birth.
Soft certified organic cotton cover
Ecologically certified absorbent core
No plastic
No perfumes or dyes
Totally chlorine free
Biodegradable & compostable
The soft, fluffy, absorbent core, made from totally chlorine free pulp, quickly absorbs and locks away fluid, and the certified organic 100% cotton cover allows your skin to breathe whilst at the same time keeping you dry and free from contact with synthetic materials.
Ingredients
Certified organic cotton, ecologically-certified cellulose pulp, non-GMO cornstarch, non-toxic glue.
---
Nursing Pads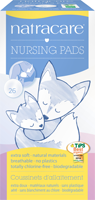 Wonderfully soft and perfectly shaped nursing pads that will keep your skin and bra dry between breast feeds. Naturally breathable, polyethylene free, and totally chlorine free to keep delicate nipples and your baby's milk free from any dioxin residues.
Breathable natural materials
Extra soft plant cellulose cover
Ecologically certified absorbent core
Glue-free
No perfumes or dyes
Totally chlorine free
Biodegradable & compostable
Ingredients
Ecologically-certified cellulose pulp, viscose and a small percentage of acrylic binder. This allows us to remove all glues from our Nursing Pads – perfect for sensitive skin.
---
Take a look at our baby wipes too!
---
---
Q. "How many maternity pads will I need?"
It depends how long bleeding lasts, however it's best to have two packs in the house and one pack in your maternity bag. You may need to change your pad every hour or two to start with, then every 3 or 4 hours in the coming days and weeks.
---
Got another question? Get in touch!