Working out on your period doesn't always sound inviting, but some people actually find period pain relief after getting sweaty. Whatever camp you fall into, we support you! We've shared our top 5 exercises to do while menstruating. Today we want to share the best period products to use while exercising.
Totally Chlorine-Free tampons
If you are one to get extra sweaty or opt for workouts with lots of movement, we recommend sticking to tampons. Since you insert tampons, you can feel more freedom and less worry about your period protection working. Tampons are great for exercises like swimming or high intensity interval training, and not worrying about pads. You also have the added benefits of breathability and no bacteria build-up – when following best menstrual hygiene practices of changing it every 4-6 hours.
The best tampons are 100% organic, Totally Chlorine Free cotton, like ours at Natracare. We are proud to use the most environmentally friendly method to clean and sterilize our organic cotton to ensure they're safe to use. This doesn't create any harmful chlorine-based by-products.
Know what you're putting in your body?
No pesticides, phthalates or dioxins! Try tampons made with 100% organic cotton and nothing else.

Pads with wings
Tampons aren't for everyone. So, if they're not your go-to choice or you're doing more low-intensity exercises, we suggest pads with wings. Low-intensity workouts can include walks around your neighborhood, a gentle yoga flow, slowly lifting weights, or using an elliptical or rowing machine. Whichever you choose, the wings on the period pad help secure the pad to stay in place while you move around and practice a low-intensity sustained-state workout (LISS).
Plastic in your pads?
Natracare pads are plastic free, biodegradable, and compostable.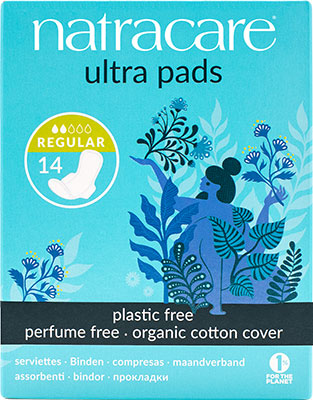 Period panties and cups
If you're more of a reusable period products person, period panties (or pants) and menstrual cups may be your saving grace when you exercise. These can help you feel protected while working out and are great for higher-intensity workouts, such as cycling, boot camps, CrossFit, or other HIIT (High-Intensity Interval Training) exercise classes. For added protection, you can also pair these alternatives with panty liners. This helps you feel more confident in avoiding leaks, so you can focus on making the most of your workout.
The perfect pairing
Natracare panty liners are perfectly paired with tampons or reusable period products for extra protection.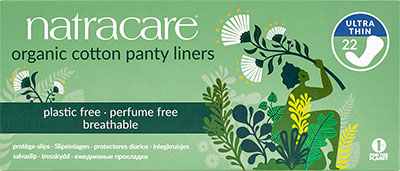 Whichever route you go for period protection while exercising, be sure to double-check the ingredients and packaging. The best period products are ones that help you without harming your health or the environment. This is why Natracare is always plastic-free, organic, and compostable.
What's your best tip for periods when working out? Let us know in the comments!